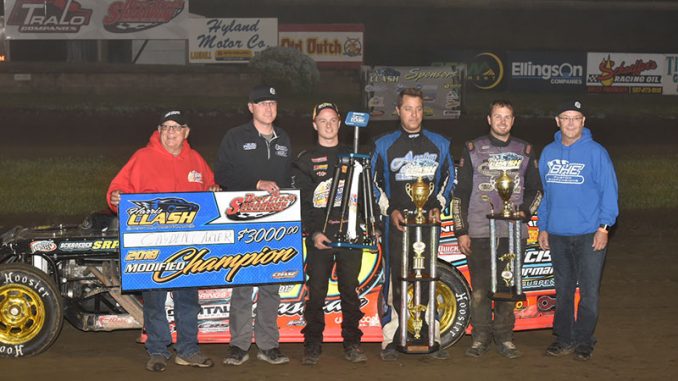 SPRING VALLEY, Minn. (Aug. 7) – A history-making night turned out to be a record-breaking night Tuesday at Deer Creek Speedway.
Cayden Carter raced from 17th starting to win the IMCA Modified main event, and $3,000, at the Harris Clash, the first IMCA event held at Spring Valley. Ninth starting Jake McBirnie topped the Karl Chevrolet Northern SportMod feature and earned $1,000.
Ninety-six Modifieds and 55 SportMods were entered with the total car count of 151 the highest in the 27-year history of the Clash, which played out before a very full grandstand. Seventeen states and Canada were represented.
"To win the Harris Clash means a lot to me. I've never been able to get it done before," Carter said. "To come to Deer Creek and win the first IMCA Modified event here is pretty amazing."
Carter had moved steadily through the field and into the top three with 10 circuits to go and was in the right spot at the right time when frontrunners Kyle Strickler and Richie Gustin, both two-time Clash winners, got together with four laps left.
He took charge from that point, winning his career first Clash crown ahead of Troy Cordes, Bran­don Davis, Adam Hensel and Mike Hansen.
"Sometimes it's better to be lucky than be good," said Carter, who had drawn the 198 pill (out of a pos­sible 200) and started last in the 11th of 12 heats. "We ran second in our heat, then won our 'B.' Everything just kind of came together for us."
Cordes had started outside the front row and led past halfway of the 30-lapper, surrendering the front spot following a restart to "B" qualifier and Wehrs Dash at the Clash winner Gustin.
Another two-time Clash winner, Kelly Shryock, earned hard charger honors this time around by racing from last in the field of 25 to sixth.
Carter has already won three 2019 Fast Shafts All-Star Invitational ballot qualifying events, the Clash coming on the heels of rich victories at LaSalle Speedway's Illinois Valley Showdown and Hancock County Speedway's Hobo 100 special.
McBirnie emerged from a late dustup in the Northern SportMod feature after Jared Boumeester led most of the 20-lap contest. Boumeester and Johnathon Logue tangled and Boumeester was sent to the rear of the field and ultimately the pits; McBirnie then motored past Logue following the second of two restarts en route to his career first Clash checkers.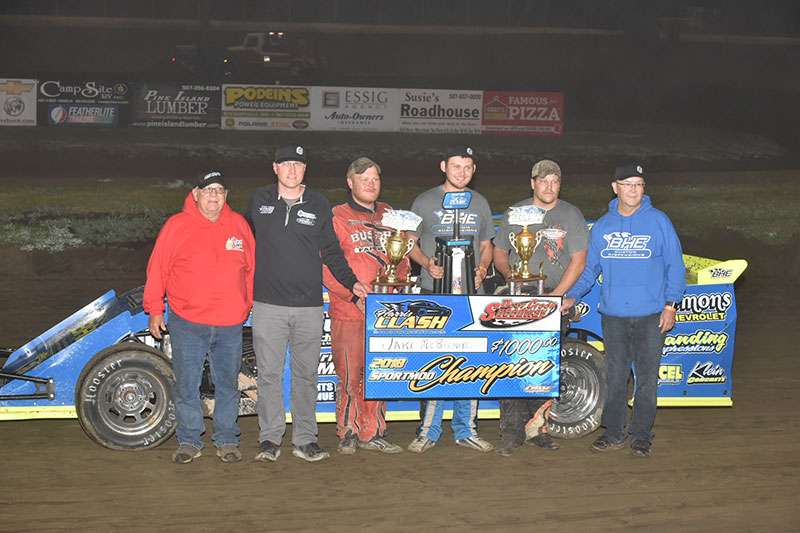 "It worked out pretty good for us at last year's Clash when we finished third but we did even better this year," said McBirnie, like Carter a first-time visitor to Spring Valley. "The Clash is a race I've always wanted to win. It's pretty cool to do it, because of the prestige of the race and winning at Deer Creek."
Finishing third through fifth were Joe Docekal, Joey Schaefer and Austin Schrage.
Feature Results
Modifieds – 1. Cayden Carter, Oskaloosa, Iowa; 2. Troy Cordes, Dunkerton, Iowa; 3. Brandon Davis, Hayfield; 4. Adam Hensel, Baldwin, Wis.; 5. Mike Hansen, Dickinson, N.D.; 6. Kelly Shryock, Fertile, Iowa; 7. Billy Kendall, Baxter; 8. Joel Rust, Grundy Center, Iowa; 9. Jesse Den­nis, Corning, Iowa; 10. Clint Hatlestad, Glencoe; 11. Justin Kay, Wheatland, Iowa; 12. Chris Abel­son, Sioux City, Iowa; 13. J.D. Auringer, Waterloo, Iowa; 14. Brian Mullen, Seymour, Wis.; 15. Matt Ryan, Davenport, Iowa; 16. Hunter Marriott, Brookfield, Mo.; 17. Jay Noteboom, Hinton, Iowa; 18. Corey Dripps, Reinbeck, Iowa; 19. Mike Mashl, DePere, Wis.; 20. Richie Gustin, Gil­man, Iowa; 21. Ricky Thornton Jr., Clive, Iowa; 22. Kyle Strickler, Troutman, N.C.; 23. Jacob Hob­scheidt, Plattsmouth, Neb.; 24. Garett Wilson, Carlisle, Iowa; 25. Kyle Brown, Madrid, Iowa.
Northern SportMods – 1. Jake McBirnie, Boone, Iowa; 2. Johnathon Logue, Boone, Iowa; 3. Joe Docekal, Dysart, Iowa; 4. Joey Schaefer, Waterloo, Iowa; 5. Austin Schrage, Cresco, Iowa; 6. Brayton Carter, Oskaloosa, Iowa; 7. Chris VanMil, Barnesville; 8. Austen Becerra, Carthage, Ill.; 9. Nate Chodur, Lake Mills, Iowa; 10. Sam Wieben, Dysart, Iowa; 11. Thomas Nelson, Aurora, Colo.; 12. Alex Schubbe, North Mankato; 13. Josh Appel, Mason City, Iowa; 14. Austin Howes, Memphis, Mo.; 15. John Albrecht, Glencoe, Minn.; 16. Jared Nytroe, Brandon, S.D.; 17. Tyler Soppe. Sherrill, Iowa; 18. Jared VanDeest, Holland, Iowa; 19. Nate Whitehurst, Mason City, Iowa; 20. Jake Sachau, Denison, Iowa; 21. Justin Remus, New Ulm; 22. Cole Bents, Rushmore; 23. Kyle Bentley, Fairbank, Iowa.