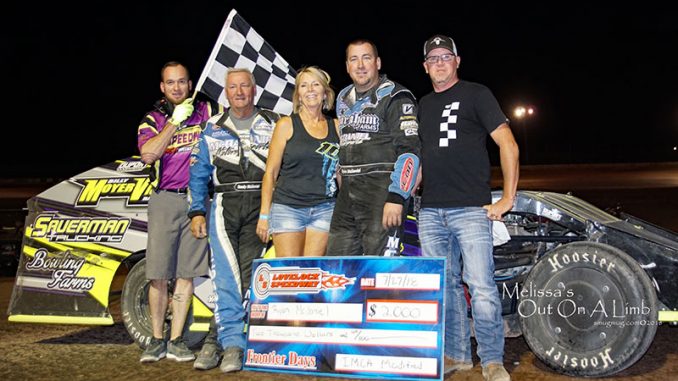 LOVELOCK, Nev. (July 27-28) – Ryan McDaniel's first visit to Lovelock Speedway has him look­ing forward to a return trip to the Nevada speedplant.
McDaniel swept Frontier Days IMCA Modified features picking up $2,000 wins Friday and Satur­day night.
"I had never been to Lovelock before Friday and this was the first time I'd swept weekend shows with big payouts," the new Fast Shafts All-Star Invitational ballot qualifier said. "It's been a long time coming, that's for sure."
McDaniel won from eighth starting, ahead of James Thibodeaux and Cory Sample, on opening night and from seventh starting, in front of Sample and Joel Myers, on Saturday.
A good run on the outside line took him to the front following a restart with seven laps left on Fri­day. McDaniel then went to the lower groove and used lapped traffic to his advantage in leading to the finish.
Rounding out the top five were Robert Miller and Myers.
Traffic didn't do McDaniel any favors while he ran second on Saturday, however, as Sample found the way through quicker and pulled away.
A caution erased that big advantage though and McDaniel capitalized, again going to the higher line to pass his way to the front.
"My car came in at the better time," said McDaniel, who weathered a late caution in completing the sweep. "My car was better from laps 15 to 30. It all worked out for me."
Don Childs was fourth and Thibodeaux took fifth.
Feature Results
July 27 – 1. Ryan McDaniel; 2. James Thibodeaux; 3. Cory Sample; 4. Robert Miller; 5. Joel My­ers; 6. Andy Strait; 7. Alec Childs; 8. Denny Robblee; 9. Jonathon Mitchell; 10. Steven Anderson; 11. J.D. Jurad; 12. Travis White; 13. Kolbie Mace; 14. Tim Lamkey; 15. Randy McDaniel; 16. Ty Gamble; 17. Robbie Conley; 18. Don Childs; 19. Jay Bradley.
July 28 – 1. Ryan McDaniel; 2. Sample; 3. Myers; 4. Don Childs; 5. Thibodeaux; 6. Randy McDan­iel; 7. White; 8. Strait; 9. Robblee; 10. Alec Childs; 11. Mitchell; 12. Anderson; 13. Jona­than Delavega; 14. Mace; 15. James Riggs; 16. Jurad; 17. Lamkey; 18. Reldon Hatch; 19. Brad­ley.