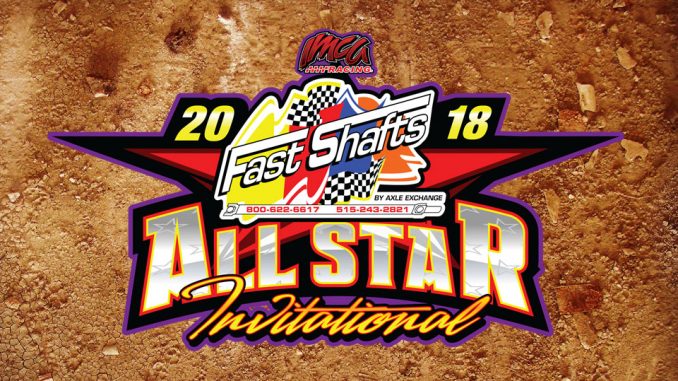 BOONE, Iowa – The first round of voting for the upcoming Fast Shafts All-Star Invitational begins at noon on Monday, July 23.
Three drivers from each of the five regions for IMCA Modifieds will be elected in polling conducted between July 23 and 26; another 13 advance from an at-large pool of the next 25 top vote recipients be­tween July 30 and Aug. 2.
One hundred and thirty-six drivers are currently vote eligible for the 15th annual Invitational, to be held Sept. 7 during the IMCA Speed­way Motors Super Nationals fueled by Casey's at Boone Speedway.
Listed alphabetically, vote eligible drivers (the IMCA office should be notified as soon as possible regarding any possible additions) now include:
Dean Abbey, Chris Abelson, Jeff Aikey, Chase Allen, Chad Andersen, Drew Armstrong, Austin Arneson, Chaz Baca, Shayne Bailey, Eric Barnes, Jason Barnhill, Steven Bowers Jr., Kyle Brown, John Burrow Jr. and John Campos.
Ryan Canon, Mark Carrell, Cayden Carter, Craig Cassell, Darin Center, Doug Davenport, Nick Deal, Casey Delp, Mike Densberger, Zane DeVilbiss, Shane DeVolder, Russ Dickerson, Brad Doherty, Jake Donnelly and Ethan Dotson.
J.P. Dowell, Logan Drake, Tyler Droste, Darin Duffy, Chris Elliott, Grey Ferrando, Jay Foster, Josh Foster, Troy Foulger, Jeremy Frenier, Darron Fuqua, Bryce Garnhart, Ryan Gaylord, Tripp Gaylord and Don Gerritsen Jr.
Daniel Gottschalk, William Gould, Jordan Grabouski, Michael Greseth, Richie Gustin, Travis Hagen, Chase Hansen, John Hansen, Branden Harris, Clint Hatlestad, Kyle Heckman, Toby Herring, Shane Hiatt, Scott Hogan and Bobby Hogge IV.
Darrell Hughes, Bricen James, Justin Kay, Shane Kelley, Kurt Kile, Eddie Kirchoff, Cody Laney, Jeff Larson, Danny Lauer, Tony Leiker, Michael Long, Clint Luellen, Ryan McDaniel, Josh McGaha and Zach Madrid.
Cody Malcom, Hunter Marriott, Dale Mathison, Tyler Mecl, Jeremy Meirhofer, Kayden Menasco, Rich Michael Jr., Robert Miller, Bob Moore, Danny Morrison, Mike Mullen, Chase Nieman, Jay Noteboom, Jake O'Neil and John Parmeley.
Rich Pavlicek, Jeremy Payne, Terry Phillips, Jon Plowman, Brad Pounds, Butch Reid, Lucas Rodin, Josh Rogotzke, Kyle Rohleder, Anthony Roth, Joel Rust, Ryan Ruter, Cory Sample, Robby Sawyer and Kody Scholpp.
Ken Schrader, Brian Schultz, Marlyn Seidler, Kelly Shryock, Dylan Smith, Scott R. Smith, T.J. Smith, Tyler Stevens, Steve Stewart, Paul Stone, Dustin Strand, Kyle Strickler, Kevin Sustaire, Jeff Taylor and Ricky Thornton Jr.
Nick Trenchard, Aaron Turnbull, Mike Van Genderen, Milo Veloz, A.J. Ward, Tim Ward, Will Ward, Jeff Waterman, Mark Wauge, R.C. Whitwell, Jesse Williamson, Collen Winebarger, Jason Wolla, Austin Wonch, Chris Zogg and Bob Zoubek.
All-Star drivers receive Velocita fire suits and mini-replica drive shafts from event title sponsor Fast Shafts by Axle Exchange.
Completing the starting grid for the 30-lapper will be All-Star candidates with the top national point to­tal and the most 40-point feature wins as of Aug. 31 competing at Super Nationals.
The event pays $1,000 to win and $200 to start.