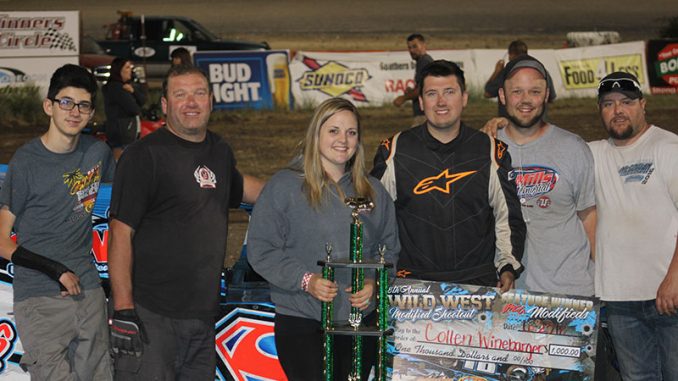 By Ben Deatherage
WHITE CITY, Ore. (June 23) – Collen Winebarger brought his 'A' game to Southern Oregon Speed­way Saturday night and as a result, the rest of the Wild West IMCA Modified Shootout field was in the race for second.
The Corbett chauffeur went unchallenged nearly the entire distance after the early laps were inter­rupted by multiple cautions. Winebarger held the point through six restarts and felt some pres­sure in the closing laps from Ethan Dotson, but the California challenger was unable to com­plete the pass for the lead.
Already on the Fast Shafts All-Star Invitational ballot, Winebarger picked up the $1,000 victory, the second of his Shootout career, ahead of Dotson, Grey Ferrando, 'B' feature winner Darrell Hughes and Bricen James.
Thirty-six drivers from Oregon, California, Washington, Nevada and British Columbia vied on night two of the tour.
Feature results – 1. Collen Winebarger; 2. Ethan Dotson; 3. Grey Ferrando; 4. Darrell Hughes; 5. Bricen James; 6. John Campos; 7. Danny Lauer; 8. Nick Trenchard; 9. Jesse Williamson; 10. Curtis Towns; 11. Aaron Sheelar; 12. Richard Papenhausen; 13. Preston Jones; 14. Mark Gay­lord; 15. Tim Balding; 16. D.J. Shannon; 17. Carl Berendsen; 18. Mark Wauge; 19. Harley Turner Jr.; 20. C.J. Putnam.