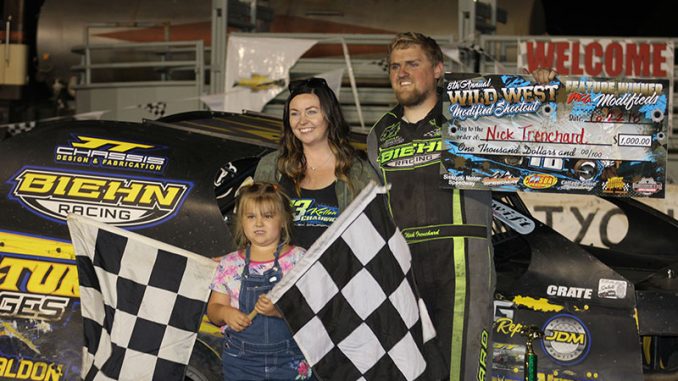 By Ben Deatherage
YREKA, Calif. (June 22) – Opening night for the 2018 Wild West Shootout played out much like the opener for last year's IMCA Modified tour as Nick Trenchard topped Friday's main event at Siskiyou Motor Speedway.
The Oregon wheelman drew the pole and led every circuit, mastering lapped traffic as the feature stayed green following a lap 13 caution.
Already on the Fast Shafts All-Star Invitational ballot, Trenchard was challenged several times but crossed the wire as the $1,000 winner ahead of Collen Winebarger, Bricen James, Ryan McDaniel and D.J. Shannon.
The victory was Trenchard's Wild West Tour career third.
Teams from California, Oregon and Nevada as well as the Canadian province of British Columbia were represented in the Friday show.
Feature results – 1. Nick Trenchard; 2. Collen Winebarger; 3. Bricen James; 4. Ryan McDaniel; 5. D.J. Shannon; 6. Ethan Dotson; 7. Grey Ferrando; 8. John Campos; 9. Aaron Sheelar; 10. Jesse Williamson; 11. Brian Thompson; 12. Darrell Hughes; 13. Kyle Casson; 14. Danny Lauer; 15. Albert Gill; 16. Dustin Cady; 17. C.J. Putnam; 18. Lawrence O'Connor; 19. Mark Wauge; 20. Jeff Faulkner