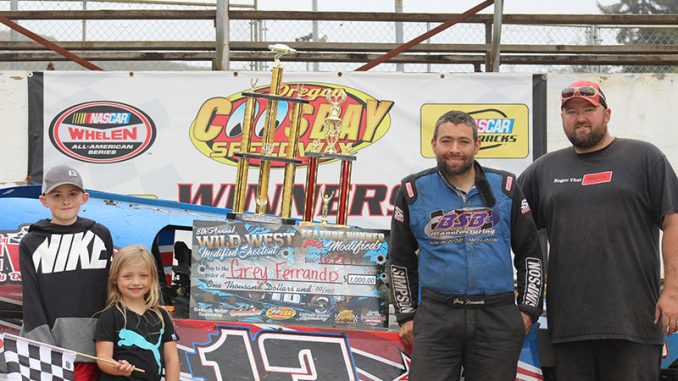 By Ben Deatherage
COOS BAY, Ore. (June 24) – Wild West IMCA Modified Shootout career win number one for Grey Ferrando came on a rare day race Sunday at Coos Bay Speedway.
Ferrando seize the lead at the drop of the initial green flag and cruised out front during the cau­tion-free first 12 laps.
Lapped traffic would come into play briefly but did not slow Ferrando down. On a handful of occa­sions, the leader felt some pressure only to keep all challengers in check.  Mastering the restarts and setting a quick pace, Ferrando earned his first career Wild West Shootout victory ahead of Ethan Dotson and Dustin Cady.
Collen Winebarger grabbed fourth while four-time and defending champion Jesse Williamson took fifth.
Entrants for round three of the tour represented Oregon, California, Washington, Nevada, and North Carolina as well as British Columbia.
The Wild West Modified Shootout heads to Cottage Grove Speedway for $1,000 to win features tonight (Monday) and Tuesday.  Pit gates open at 2 p.m. and front gates open at 5 p.m. both days, with racing at 6:30 p.m. Spectator admission is $10 a carload.
Feature results – 1. Grey Ferrando; 2. Ethan Dotson; 3. Dustin Cady; 4. Collen Winebarger; 5. Jesse Williamson; 6. John Campos; 7. Bricen James; 8. Lawrence O'Connor; 9. Curtis Towns; 10. Justin Duty; 11. Jeff Faulkner; 12. Brad Martin; 13. Aaron Sheelar; 14. Jerry Schram; 15. Ryan Baker; 16. D.J. Shannon; 17. Robert Jeffers; 18. Darrell Hughes; 19. Mark Gaylord; 20. Don­ald Schott; 21. Danny Lauer; 22. Brian Wulfenstein.