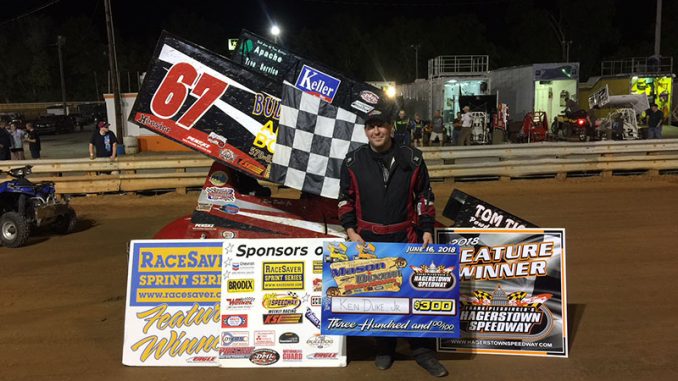 By Jim Haines
HAGERSTOWN, M.D. (June 16) – Ken Duke proved to finish first, you must first finish when 53 IMCA RaceSaver Sprint Cars converged at Hagerstown Speedway.
The Saturday event was co-sanctioned by the Laurel Highlands Sprint Series, Pennsylvania Sprint Series and Virginia Sprint Series.
Duke was running second but took the win after Jeff Miller fell out on the last lap. He led PASS point leader Zach Newlin and defending LHSS champion Scott Lutz across the stripe.
Newlin and Ryan Lynn paced the field to the initial green with Newlin out first. Miller stayed close to the leader while Duke worked his way toward the front.
Miller became the new leader on lap seven with Newlin holding off Drew Ritchey for second with Duke closing in. Miller was smooth out front while Duke took over second on the 16th circuit.
With laps winding down, the field looked to be set but a quick yellow changed everything as Miller pulled in and Duke led the rest of the lap that mattered most.
Feature results – 1. Ken Duke; 2. Zach Newlin; 3. Scott Lutz; 4. Tyler Reinhardt; 5. Drew Ritchey; 6. John Scarborough; 7. Darren Miller; 8. Dylan Shatzer; 9. Ryan Lynn; 10. John Walp; 11. Scott Elerman; 12. Jay Krout; 13. Jonathon Jones; 14. Daren Bolac; 15. Stephanie Dodson; 16. Robbie Bartchy; 17. Brad Mellott; 18. Jimmy White; 19. Tony Harris; 20. Jeff Miller; 21. Cale Reagle; 22. Kassidy Kreitz; 23. Fred Arnold; 24. John Fiore.