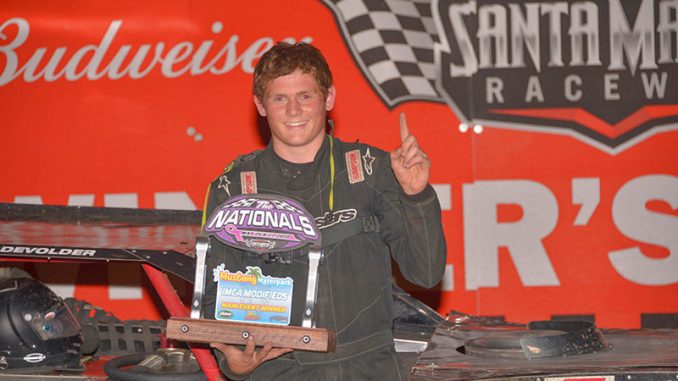 SANTA MARIA, Calif. (May 26-27) – Logan Drake raced back to victory lane on opening night while Shane DeVolder earned his career first IMCA Modified feature win on night two of Santa Maria Raceway's Memorial Weekend Nationals.
Drake, also a 2017 winner at Santa Maria, led the last 10 circuits in winning Saturday's 25-lapper. DeVolder regained the lead with two turns around the track left in Sunday's main, also 25 laps. Both events paid $1,200 and put the winners on the Fast Shafts All-Star Invitational ballot.
Robby Sawyer started on the Saturday pole flanked by Austin Burke and the first seven laps ran in that order. The third-starting Drake took over second on lap eight and moved to the extreme high groove to take the top spot from Sawyer on lap 15.
The only caution of the event came on lap 20. Drake led the final five laps for his first feature win of year and was followed across the stripe by Sawyer, Clay Daly, D.J. Shannon and Cody Laney.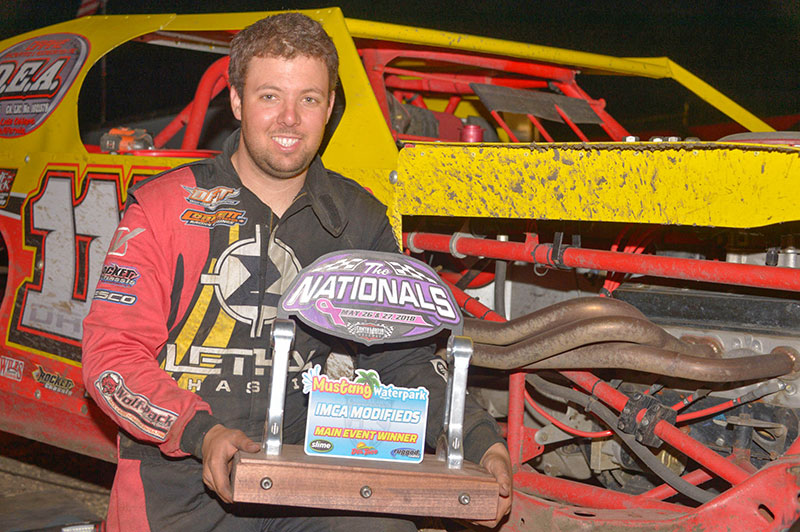 "Santa Maria is only about 20 minutes from home but this was only the fourth time we've been able to race there this year. We've just been so busy at work, Drake said. "If you're going to win a big race, it's nice that this is the one. Just about everybody in California was here."
After an early exit with a broken axle on Saturday, DeVolder grabbed the early lead on Sunday ahead of Alex Stanford. A series of yellows slowed action before settling down with DeVolder continuing to lead Stanford and Sawyer. Brad Pounds moved into third before the next caution.
Stanford took the lead on lap 17 and pulled away from DeVolder and Pounds before running afoul of lapped cars with two laps remaining and was backwards on the backstretch and out of the race.  DeVolder led the final pair of laps to win his first-ever Modified feature.
"It was awesome," said DeVolder, 16 years old and a junior-to-be at Design Tech High School in Redwood City. "I had raced here before in a Karl Chevrolet Northern SportMod but just once in a Modified. Winning so soon in my rookie season is just unbelievable."
Sawyer was the runner-up and Pounds took third. Austin Burke and Drake completed the top five.
Michael Johnson was the $1,000 winner of Sunday's Northern SportMod feature.
Kollin Hibdon started on the pole and led a pair of laps before a rash of cautions slowed action. Austin Frye moved into second around Parker Maccianti before Hibdon spun in front of the pack for another yellow.
Frye led a pair of laps punctuated by more yellows with the eighth starting Johnson using the upper groove to take the lead at the halfway mark.  Fifth row starting Jason Nation zoomed into second with five laps remaining.
Johnson ran to the win ahead of Nation, Frye, Gary Dutton and Kyle Wood as Bakersfield Speedway-based cars dominated the field.
May 26 Feature Results
Modifieds – 1. Logan Drake; 2. Robby Sawyer; 3. Clay Daly; 4. D.J. Shannon; 5. Cody Laney; 6. Alex Stanford; 7. Brad Pounds; 8. Jerry Flippo; 9. Austin Burke; 10. Roger Holder; 11. Cody Burke; 12. Randy Brown; 13. Ryan Daves; 14. Clint Reichenbach; 15. Austin Rodarte; 16. Chett Reeves; 17. Dylan Thornton; 18. Trevor Fitz-Gibbon; 19. Brad Prows; 20. Kenny Kirkpatrick; 21. Brandon Hoekstra; 22. Shane DeVolder; 23. Jarod Fast; 24. Levi Kiefer.
May 27 Feature Results
Modifieds –  1. DeVolder; 2. Sawyer; 3. Pounds; 4. Austin Burke; 5. Drake; 6. Holder; 7. Brown; 8. Steve Noland; 9. Cody Laney; 10. Reichenbach; 11. Shannon; 12. Daves; 13. Daly; 14. Kirkpatrick; 15. Austin Rodarte; 16. Reeves; 17. Aaron Rodarte; 18. Stanford; 19. Fitz-Gibbon; 20. Prows; 21. Flippo; 22. Burke, 23. Fast; 24. Carla Laney.
Northern SportMods – 1. Michael Johnson; 2. Jason Nation; 3. Austin Frye; 4. Gary Dutton; 5. Kyle Wood; 6. Patti Ryland; 7. Brent Curran; 8. Austin Manzella; 9. Brylon Holder; 10. Donnie Hampl; 11. Aaron Farrell; 12. Wayne Coffman; 13. Matthew Mayo; 14. Parker Maccianti; 15. Kollin Hibdon; 16. Kevin Johnson; 17. Matthew Hagio; 18. Fred Ryland; 19. Paul Harris; 20. Joey Claborn; 21. Austin Williams; 22. Brendon Frye; 23. Dylan Potter; 24. Mike Dean.