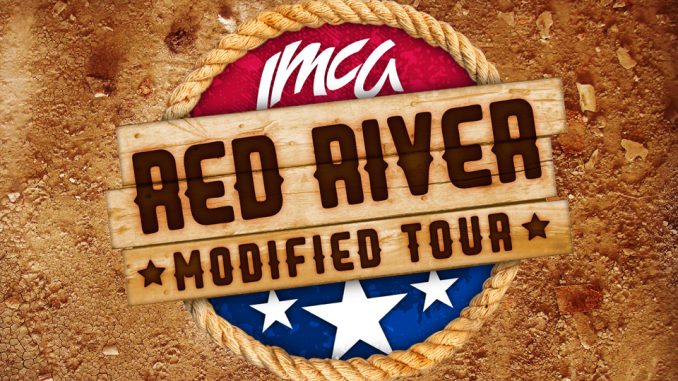 KENNEDALE, Texas – The inaugural IMCA Red River Modified Tour takes drivers in three divi­sions to six tracks in Texas and Oklahoma. Pre-entries are in hand from nearly 130 drivers from nine states.
IMCA Modified features May 26 at Kennedale Speed­way Park, May 27 at Heart O' Texas Speed­way, May 28 at 281 Speedway, May 30 at Devil's Bowl Speed­way and May 31 at Grayson County Speedway all pay $1,000 to win. The final Fast Shafts All-Star Invitational ballot qualifying event of the week is June 1 at Southern Ok­lahoma Speedway, with a top prize of $1,500.
IMCA Sunoco Stock Cars and Smiley's Racing Prod­ucts Southern SportMods race for $500 to win and a mini­mum of $50 to start each night. All events are draw/redraw and will be broadcast by IMCA.TV.
IMCA Speedway Motors Weekly Racing National, Ra­zor Chassis South Central and EQ Cylinder Heads South­ern Region, Texas State and special series points, but no track points will be awarded.
Series champions will be crowned in each division; Modified and Stock Car champions become eligible to qual­ify for their respective race of champions during the up­coming IMCA Speedway Motors Su­per Nationals fueled by Casey's.
IMCA RaceSaver Sprint Cars are on May 26 and 27 pro­grams.
Smiley's Racing Products hosts an off-day lunch from 11 a.m.-1 p.m. on Tuesday, May 29 at its 103 Gross Road location in Mesquite. Tour drivers can visit the facil­ity and pick up any parts they need that day.
Questions can be directed to Tour Director Selby Holder at 254-715-5742.
IMCA Modified drivers pre-entered include Jeffrey Abbey, Comanche; Chase Allen, Midlothian; Drew Armstrong, Benton, Ark.; Rusty Belcher, Southmayd; Chris Bragg, Springtown; Chance Brown, Merkel; Mark Carrell, Redmond, Ore.; Robbie Daniels, Tom Bean; Cory Davis, Eunice, N.M.; Bo Day, Greenville; and Peter DeGrote, Granbury.
Colin Deming, Hobbs, N.M.; J.P. Dowell, Killeen; Joe Duvall, Claremore, Okla.; Chris Elliott, Abilene; Tyler Frye, Belleville, Kan.; John Gober, Poolville; Jason Gomez, Princeton; Joe Gomez, Blue Ridge; David Goode Jr., Copperas Cove; William Gould, Calera, Okla.; and Kevin Green, Waco.
Matt Guillaume, Haslet; Mike Hansen, Dickinson, N.D.; Brint Hartwick, Quitman, Ark.; Hardy Henderson, Harker Heights; Tyson Henson, Bonham; Simon Hernandez, Princeton; Garrett Higgins, New Waverly; Jason Hilliard, Cache, Okla.; Jeff Hoegh, New Caney; Danny Hogue, Abilene; and Brandon Hood, McGregor.
Jason Hunter, Poolville; Allen Juelch, Durant, Okla.; Raymond King, Wylie; T.J. Lackey, Springtown; Matt Lynch, Cleveland; Christopher Luttmer, Saint Jo; Justin McCoy, Waxahachie; Josh McGaha, Abilene; William McGuire, Belton; David McKay, Van Alstyne; and Robert McKinney, Alvarado.
Raymond McSpadden, Buda; Matt Martin, Alvarado; Chad Melton, Mineral Wells; Erik Miles, Haltom City; Talon Minten, Seguin; Clay Money, Penokee, Kan.; Mike Moore, Springtown; Chris Morris, Taylor; Justin Radcliff, China Spring; Shawn Ritter, Keystone, Iowa; and Nick Roberts, Des Moines, Iowa.
Danny Rodgers, Midlothian; Shawn Sandegren, Montgomery; Brian Schultz, Casa Grande, Ariz.; Jesse Schwettmann, Tatum; Mark Shipman, Grandview; Cody Shoemaker, Decatur; Riley Simmons, Susanville, Calif.; Marvin Skinner, Mansfield; Ryan Slott, New Waverly; and Tyler Stevens, Searcy, Ark.
Kevin Sustaire, Emory; Charlie Thieme, Fort Worth; Max Thomas, Quinlan; Dillon Tindall, La Grange; Danny Turner, Brenham; Eric Tomlinson, Waco; Rodney Twardeski, Huntsville; Kyle Whitworth, Leonard; Ryan Williams, Waxahachie; and Fred Wojtek, Blackwell.
Pre-entered IMCA Sunoco Stock Car drivers are Westin Abbey, Comanche; Charlie Brown, Tuscola; Caleb Crenshaw, Fort Worth; A.J. Dancer, Red Rock; Markiss Harcrow, Killeen; Shannon Hartline, Ivanhoe; Brandon Hood, McGregor; Billy Lindsey, Merkel; Vernon Owens, Leander; Jason Riddle, Balch Springs; Justin Roberts, Sachse; Kevin Rogers, Emory; Andy Roller, Waco; Ranger Shipman, Grandview; Justin Wierenga, Killeen; Gary Williams, Bonham; and Shelby Williams, Bonham.
Smiley's Racing Products Southern SportMod pre-entries have been received from Tyler Bragg, Springtown; Nathan Buchanan, Tool; Devin Chambers, Marietta, Okla.; Chris Cogburn, Robinson; James Craig, Denison; Rowdy Day, Greenville; Riley Dickson, Whitesboro; Joseph Doremus, Springtown; Chris Florio, Copperas Cove; Taylor Florio, Copperas Cove; John Freeman, Runaway Bay; Donnie Hix, Sadler; Eric Kimbro, Lawton, Okla.; Sid Kiphen, Gatesville; Kasey Kuykendall, Howe; Robert McCutcheon, Prosper; and Kamera McDonald, Keller.
And Tres Miller, Cache, Okla.; Kenneth Montgomery, Huntsville; Dustin Mooney, Forney; Greg Moran, Sherman; Justin Nabors, Kemp; Jacob Pirkle, Midlothian; Scot Raney, Sherman; Trevor Raney, Sherman; Danner Shipman, Grandview; Blaine Shives, Leonard; Brian Short, Denison; James Skinner, Burleson; Jake Upchurch, Grand Prairie; Chase Vineyard, Davis, Okla.; Wesley Warren, Fairfield; Rodney White, Ector; and Thomas Wyatt, Tom Bean.