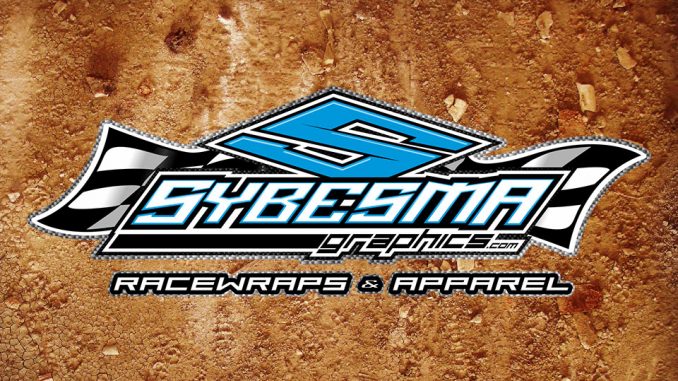 SANBORN, Iowa – Sybesma Graphics is back on board this season with a broad IMCA sponsor­ship role that rewards state champions across the Midwest.
The Sanborn, Iowa, company gives $100 gift certificates to state champions crowned in Illinois, Iowa, Minnesota, North Dakota, South Dakota and Wisconsin.
"We were looking for something that rewarded drivers for what they accomplished over the sea­son," explained owner Stefan Sybesma. "We talked about a couple different things and I loved this (program) right away because about 50 percent of what we do is shipped out around the coun­try."
"These awards aren't going to drivers at just one track," he continued. "They're going to drivers  competing for a state-wide award. They can get more bang for the buck for all the traveling they do and if the drivers can save money, it's great for both of us."
Sybesma certificates will be presented to Modified, Late Model, Sprint Car, Stock Car, Hobby Stock, Northern SportMod and Sport Compact state champions from IMCA's North Central Re­gion during the national awards banquet, or mailed beginning the following week from the IMCA home office.
In addition to motorsports and commercial wraps and decals, Sybesma Graphics does apparel screen printing and embroidery.
Sybesma began making signs in 1999, started racing an IMCA Sunoco Stock Car in 2002 and opened the business three years later.
"I'll race weekly at Buena Vista raceway and some specials hit and miss," he said. "Racing is in my blood and will never be gone. I'm very passionate about this sport. I was a racer before I started in this business and I love everything about it."
"I'm excited about this program. It's going to be good for the drivers and it's going to be good for us," added Sybesma. "I want dirt track racing to thrive and I'm going to support it at all levels, from my local go-kart track to a national sanctioning body like IMCA."
More information about Sybesma-made graphics and apparel is available by calling 712 729-7446, on Facebook and at the www.sybesma-graphics.com website.
"Historically we haven't had a lot of programs specifically targeting state champions and this new direction with Sybesma does just that," IMCA Marketing Director Kevin Yoder stated. "It will be great to give those racers in the upper Midwest another reason to chase that state title in 2018."