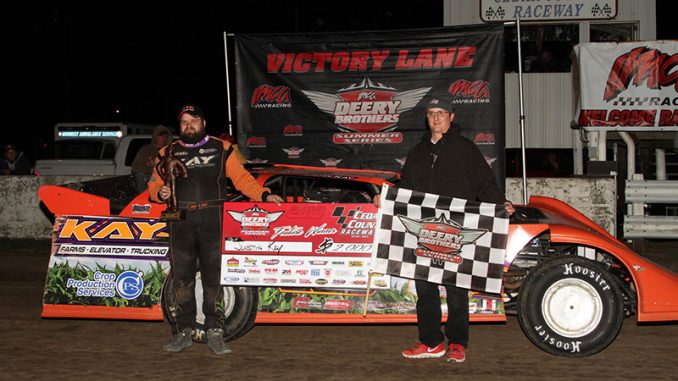 By Mike McGuire
TIPTON, Iowa (April 21) – Justin Kay continued his winning streak at Cedar County Raceway in Saturday's 2018 Deery Brothers Summer Series opener. However, Kay needed nearly all the 50 laps of the IMCA Late Model tour main event to get the job done.
"This is probably one of the tracks in the area I have some of the most laps on. It's 25 miles from our shop and where I started 15 years ago in a 4-cylinder," he said. "I just love that place."
Ryan Dolan jumped out to the early lead from the pole.
As Dolan pulled away, the third-starting Kay and Andy Eckrich became locked in a fierce battle for second. The pair swapped the position several times before Terry Neal used the very bottom groove to work his way into second.
Unfortunately, Neal's race ended several laps later as he coasted into the infield.
Kay finally managed to shake Eckrich with 10 laps to go and started to chase down the leader. He drove around Dolan with five laps to go but the yellow flag waved again a couple laps later.
On the restart, Kay pulled away to the $2,000 checkers with Matt Ryan riding a late race surge to finish second. Dolan finished third, followed by Todd Cooney and Eckrich.
"I really thought Neal was going to win," said Kay.  "I couldn't get the bottom to work so I went to the top."
"The track was awesome and the car was great," added Kay, who now has Scott Fitzpatrick heading his crew. "We'll do a little tweaking to make it even better."
Kay had won three straight Deery events (2014-2016) at Tipton coming into the night. His Saturday checkers were his tour career 25th, putting Kay just one win behind Curt Martin and Mark Burgtorf in a tie for third on the series' all-time wins list.
Ryan won the $250 Sunoco Race Fuels feature qualifier drawing.
The only weekend doubleheader on the 2018 schedule is next for the series, with $2,000 to win shows Saturday May 5 at Maquoketa Speedway and Sunday, May 6 at Quad City Speedway in East Moline, Ill.
Feature results – 1. Justin Kay; 2. Matt Ryan; 3. Ryan Dolan; 4. Todd Cooney; 5. Andy Eckrich; 6. Chad Holladay; 7. Nick Marolf; 8. Jeremiah Hurst; 9. Andy Nezworski; 10. Jeff Tharp; 11. Joe Zrostlik; 12. Luke Merfield; 13. Chuck Hanna; 14. Kyle Hinrichs; 15. Rob Moss; 16. Tim Simpson; 17. Sam Halstead; 18. Darrel DeFrance; 19. Chad Coyne; 20. Terry Neal; 21. Joel Callahan; 22. Curt Martin; 23. Denny Eckrich; 24. Curt Schroeder.