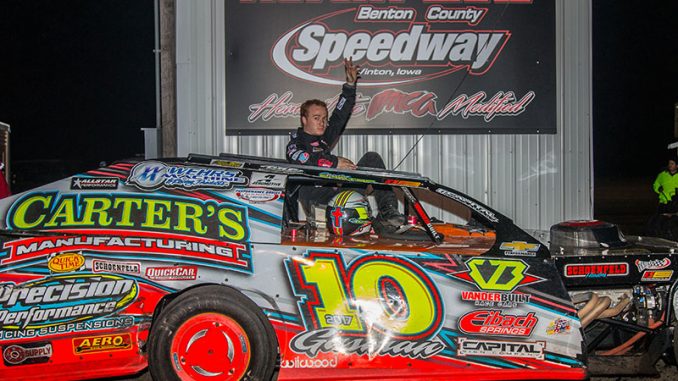 VINTON, Iowa (April 12) – The last lap of Thursday's IMCA Modified Frostbuster feature at Benton County Speedway was worth the price of admission all by itself.
Cayden Carter reeled in long-time leader Hunter Marriott, taking the lead at the white flag and staying in front to the finish of the 25-lap, $1,000 to win main event.
"It was a great race. I tried the high side and then went back to the bottom," said Carter, newly qualified for the Fast Shafts All-Star Invitational ballot. "You don't get a chance to win a big race like this very often."
Marriott took charge following an early restart with Carter and Kyle Brown swapping second behind him.
Carter finally secured the spot with nine laps left and gradually cut into Marriott's advantage.
Marriott, Brown, Joel Rust and Californian Ethan Dotson completed the top five; Richie Gustin was disqualified from third for an incorrect rev limiter setting.
Nearly 130 cars were in the pits, and adjoining cornfield, for the Vinton Frostbuster. Joey Schaefer was also a last-lap winner in the Karl Chevrolet Northern SportMod feature, Damon Murty became a five-time Frostbuster winner in the IMCA Sunoco Stock Cars and Eric Stanton repeated as the IMCA Sunoco Hobby Stock winner.
Schaefer had run second to Johnathon Logue much of the way and was closing the gap when Logue's steering broke.
Schaefer sailed to the checkers in front of defending national champion Tyler Soppe and Sam Wieben while Logue held on for seventh.
Murty started on the pole and led all 20 laps of the Stock Car feature, outrunning Lee County Frostbuster winner Todd Reitzler following a restart with five to go for career win number 237 in the division.
Canadian Kody Scholpp stayed close to Murty before pulling into the infield with mechanical ills on lap 14. The post-race disqualification of Brian Mahlstedt for an illegal carburetor promoted Steve Meyer to third.
Stanton started 11th, took the lead following one restart and got it back from David Rieks on another and raced to his IMCA Hobby Stock career 89th win. Rieks and 12th starting Justin Wacha completed the top three.
Feature Results
Modifieds – 1. Cayden Carter; 2. Hunter Marriott; 3. Kyle Brown; 4. Joel Rust; 5. Ethan Dotson; 6. Todd Shute; 7. Kelly Shryock; 8. Jeff Aikey; 9. Troy Cordes; 10. Jacob Murray; 11. Scott Hogan; 12. Clay Money; 13. Nate Hughes; 14. T.J. Smith; 15. Tony Hilgenberg; 16. Cory Wray; 17. Corey Sauerman; 18. Mike Mullen; 19. Patrick Flannagan; 20. Tyler Droste; 21. Gatlin Leytham; 22. Dan Menk;  23. David Brown.
Stock Cars – 1. Damon Murty; 2. Todd Reitzler; 3. Steve Meyer; 4. Jay Schmidt; 5. John Oliver Jr.; 6. Larry Karcz Jr.; 7. Kellie Schmitt; 8. Jake Nelson; 9. Scooter Dulin; 10. Dustin Vis; 11. Russell Damme Jr.; 12. Kevin Lubach; 13. Mitch Meier; 14. Bob Ahrendsen; 15. Kody Scholpp; 16. Larry Parshen; 17. Joel Bushore; 18. Kyle Brown.
Northern SportMods – 1. Joey Schaefer; 2. Tyler Soppe; 3. Sam Wieben; 4. Joe Docekal; 5. Ethan Braaksma; 6. Arie Schouten; 7. Johnathon Logue; 8. Kyle Olson; 9. Ben Chapman; 10. Gage Neal; 11. Tony Olson; 12. Jerry Miles; 13. Brandon Tharp; 14. Josh Appel; 15. Erik Laudenschlager; 16. Shawn Ryan; 17. Justin Becker; 18. Kyle Keller; 19. Cory Rose; 20. Ryan King; 21. Thomas Egenberger; 22. Christian Jordan; 23. Austin Howes; 24. Daniel Fellows.
Hobby Stocks – 1. Eric Stanton; 2. David Rieks; 3. Justin Wacha; 4. Bradly Graham; 5. Matt Pohlman; 6. Matt Olson; 7. John Watson; 8. Mike Kimm; 9. Jeremy Swanson; 10. Bryce Sommerfeld; 11. Rowan Mason; 12. Kyle Parizek; 13. Kenzie Ritter; 14. Jamie Coady; 15. Derrick Thran; 16. Breyden Forbes; 17. Jeremiah Wilson; 18. Jeremy Purdy; 19. Seth Janssen; 20. Leah Wroten; 21. Jeremiah Andrew; 22. David Simpson; 23. Aaron Rudolph.