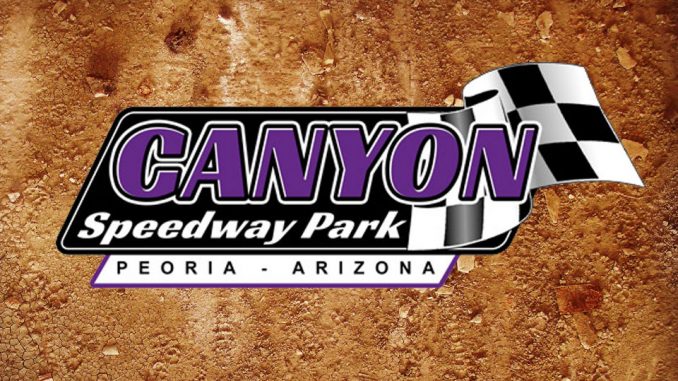 By Tony Steele
PEORIA, Ariz. (March 10) – Jason Noll kicked off the Leading Edge IMCA Modified point season with a trip to victory lane while Speedy Madrid picked up another win in the Arizona Differential IMCA Northern SportMod season opener Saturday at Canyon Speedway Park.
After finishing 1-2 in their heat race, Chaz Baca and Noll went to work during Modified feature event action. Baca started fifth and moved to the lead early after the first few circuits were paced by former track champion Guy Norton.
Noll started back in the 10th position and found his way into second around the halfway mark. Noll had no yellow flags to aid his pursuit and was forced to chase down race leader Baca.
With two laps to go, Noll set up Baca coming off turn four to dive to the inside of the leader in turn one. The pass was completed down the backstretch and Noll held on during the final circuit to take the win. Baca finished second with John Parmeley, Bubba Stafford and Guy Norton making up the remainder of the top five.
Madrid's opening night win didn't come easy as Chase Alves kept pace for most of the contest.
Racing in a borrowed car, Alves tried to chase down the leader but Madrid was too consistent out front. Madrid won ahead of Alves, Ed Gilbert, Chris Caldwell and Justin Thornton.