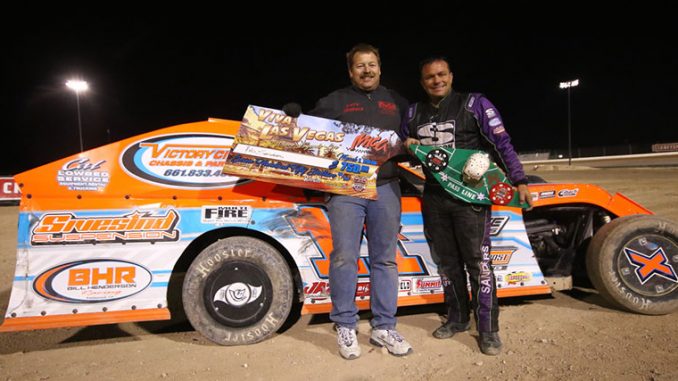 LAS VEGAS, Nev. (March 1) – After solid showings at the Duel In The Desert each of the last two years, Rob Sanders got the best of his Las Vegas Motor Speedway Dirt Track foes for a $750 IMCA Modified feature win Thursday night.
Sanders started outside Randy Brown on the front row and took charge from the opening green. Alex Stanford was scored second on all 20 circuits and kept the race close after a caution waved with two laps left, but couldn't catch the leader.
"It was amazing," Sanders said after career win number two in the division and his first victory racing for the Bill Henderson team out of Bakersfield, Calif. "I've had a lot of seconds and a lot of top fives. It felt good to finally get the monkey off my back."
After "stumbling on" the right setup, Sanders finished sixth in the 2016 Duel and was ninth last year.
He'd also finished ninth in the Wednesday event at LVMS.
"I literally had the same car I had last year at the Duel. It was a rocket ship," said Sanders, pilot­ing a Victory Circle ride. "I held my line, I stayed on the bottom and I stuck with it."
"My mother flew out from New Hampshire to watch me race so she got to see me win," he added. "That was pretty amazing, too."
R.C. Whitwell worked his way to third on lap 12 and stayed there to the finish. Cody Laney and Chaz Baca completed the top five.
Feature results – 1. Rob Sanders; 2. Alex Stanford; 3. R.C. Whitwell; 4. Cody Laney; 5. Chaz Baca; 6. Randy Brown; 7. Jessie Hoskins; 8. Zach Olson; 9. Casey Delp; 10. Joey Price; 11. Jerry Bailey; 12. Hunter McDonald; 13. Chris Comp Jr.; 14. Chad Reichenbach; 15. Chris Delp; 16. Don Martin; 17. Billy Wormsbecker; 18. Terry Hershberger; 19. Brenda Kirby; 20. Brad Hop­kins; 21. Dave Spears; 22. Andy Strait; 23. Justin Miller; 24. Blake Lyle; 25. Josh Dingman; 26. D.J. Shannon; 27. Tyrone Yazzie; 28. Hunter Marriott; 29. Ron Moser; 30. Dave Boardman.