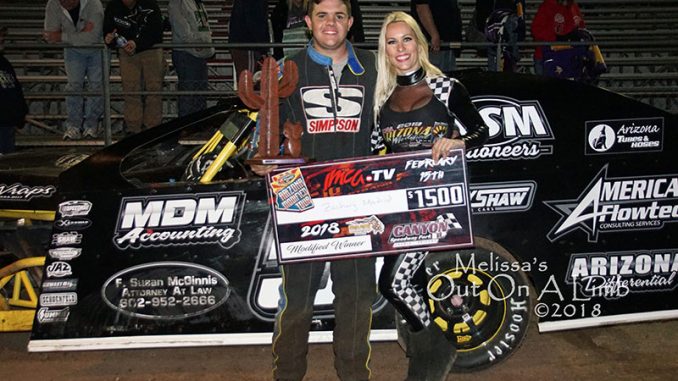 By Mike Spieker
PEORIA, Ariz. (Feb. 15) – A dominant performance put Zach Madrid in victory lane and on the Fast Shafts All-Star Invitational ballot Thursday night.
Madrid became the fourth different $1,500 feature winner in five Karl Performance Arizona IMCA Modified Tour events, checking out on the rest of the Canyon Speedway Park field.
Madrid had started eighth on the grid and quickly made his way toward the front on the fast, tacky and somewhat choppy racing surface. Madrid cracked the top three on lap eight as front row starter Chad Andersen paced the field.
Lapped traffic played a factor as the leaders battled for the top spot. With 14 to go, Andersen made heavy contact with a lapped car in turn four. That allowed polesitter Hunter Marriott and Madrid to move into second and third, respectively.
At the halfway point, Madrid pulled even with Marriott down the front stretch amidst heavy lapped traffic. Madrid powered by defending tour champion Marriott, who had won two of the first four events entering the night, to take the point.
Once out front, Madrid opened up a comfortable lead as Marriott and Andersen continued to fight for second.
Madrid cruised to the checkered to capture his first career Karl Performance Arizona IMCA Modi­fied Tour win. Marriott held off Andersen for second as Anthony Roth and Shane DeVolder rounded out the top five.
Chase Alves scored the Karl Chevrolet Northern SportMod feature win. Alves led the final 11 cir­cuits en route to the victory. Jason George, Kyle Smith, Fred Ryland and Chase Rudolf rounded out the top five.
Rain had washed out scheduled Valentine's Day show at Canyon. The Karl Performance Arizona IMCA Modified Tour concludes with Feb. 16-18 events at Cocopah Speedway.
Feature results – 1. Zach Madrid; 2. Hunter Marriott; 3. Chad Andersen; 4. Anthony Roth; 5. Shane DeVolder; 6. Lucas Schott; 7. Alex Stanford; 8. Casey Arneson; 9. Chaz Baca; 10. Ryan Gaylord; 11. Casey Skyberg; 12. Paul Stone; 13. Jeff Larson; 14. Lucas Rodin; 15. Ethan Dot­son; 16. Kody Scholpp; 17. Trent Guest; 18. Brant Schlafman; 19. Bricen James; 20. Shane Mills; 21. Garth Dushanek; 22. Wade Taylor; 23. Chris Abelson; 24. Shawn Strand; 25. Spencer Wilson.