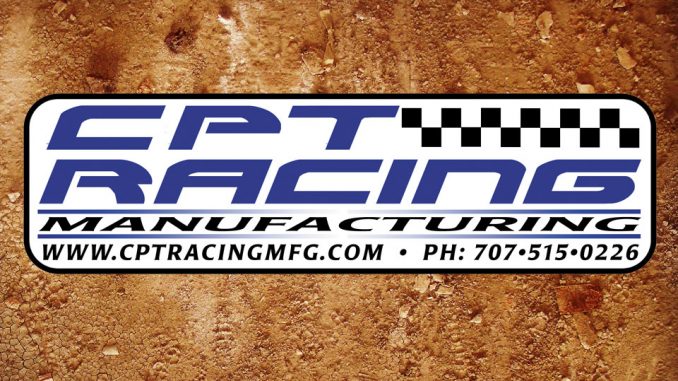 SONOMA, Calif. – A company that got its start with a grinder, a torch and high hopes is the new­est sponsor for IMCA Modified and Karl Chevrolet Northern SportMod special events.
CPT Racing Manufacturing, owned by veteran Modified driver Chris Compton, awards $50 gift certificates to a designated top five finisher at 45 specials for those two divisions.
The CPT product line includes birdcages and a wide variety of other dirt track specialty products, among them pullbars and polyurethane biscuits.
"I smashed a birdcage at Petaluma in 2012 and started making them myself," said Compton, who recently ordered a CNC lathe for his growing business. "I figured I should make five and sell the other four. They sold and I've been making them ever since."
Compton has also purchased a new parts trailer to serve area race tracks.
"I can't believe it's morphed into this. I've always listened to my customers, made improvement to my products and hopefully provided better customer service," he said. "I guess I inherited the smarts from my dad Ira, an old-school engineer with 13 patents who made his own farm equip­ment."
A recent applicant for a patent of his own, for a climber adjustment on a birdcage, Compton ex­plained that much of his current CPT product line is geared toward Modifieds and SportMods, and that he's looking at expanding into Late Model and Sprint Car markets in the future.
"IMCA is the biggest sanctioning body in the country. They are very well respected and an organiza­tion I want to be associated with," he said. "This program is a way for me to be more in­volved in the industry. It's part of the road I need to follow."
CPT Racing Manufacturing gift certificates will be mailed from the IMCA home office within a week after official race results for designated specials are received.
Awards to be given at the IMCA Speedway Motors Super Nationals fueled by Casey's are a bis­cuit pull bar to the fourth place finisher in the Modified main event and a set of 2-link brackets to the fourth place finisher in the SportMod main event.
More information about the CPT line of products is available by calling 707 515-0226 and at the www.cptracingmfg.com website.
"Chris has raced an IMCA Modified for a number of years and we've talked at the Duel In The Desert in Las Vegas about his desire to become more involved from a business standpoint," IMCA Marketing Director Kevin Yoder said. "The timing was right and we're happy to be able to work with him."