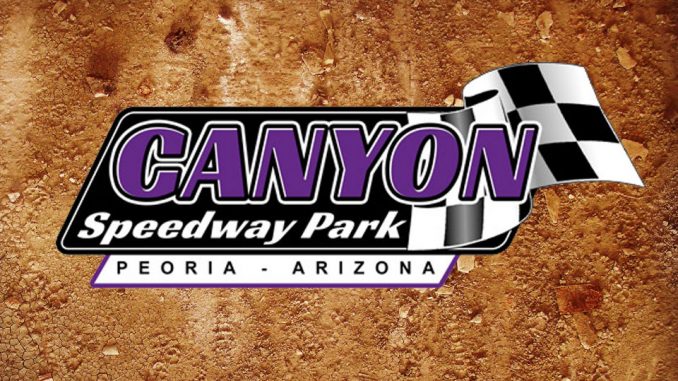 By Tony Steele
PEORIA, Ariz. (Jan 20) – The last time we wrote about Chandler, Ariz., driver Ricky Thornton Jr., it was February of 2016. Thornton had just come off of three victories in five Winter Challenge events before sweeping two nights of the Desert Classic.
After an almost two-year hiatus from Peoria, Thornton once again sat in victory lane at Canyon Speedway Park after taking the opening night $1,000 IMCA Modified Winter Challenge Series win.
Jason Noll jumped to the lead at the start of the 25-lap feature before Thornton capitalized about a third of the way into the race. Once in front, Thornton never saw a true test for the lead even after a handful of restarts.
"I knew when I got the lead on the bottom I had to stay there and just keep it as smooth as I could," Thornton said from victory lane.
Smooth was the story up front as Thornton, already on the Fast Shafts All-Star Invitational ballot, picked up the win in his new Jet Chassis. Missouri wheelman Hunter Marriott cruised to a runner-up finish while the defending track champion Chaz Baca wound up in third after a hard-fought battle with Shawn Strand. Strand worked the middle of the track to the best of his ability but was unable to work his way onto the podium. Noll finished off the top five after fading in the middle of the feature.
Jason George completed a last-lap pass to win in the Karl Chevrolet Northern SportMods while George Fronsman brought home the hardware in the IMCA Sunoco Stock Cars. The rest of the IMCA Sunoco Hobby Stock field was once again a victim of a Joe Vlasity clinic.
George went from worst to first after an early mistake caused him to bring out a yellow, sending him to the rear of the field.
"I flooded it over in turn three and four so I killed the motor which brought out that yellow," he said post-race. "Luckily, I was able to work my way back to the front to put myself in a position to make that pass at the end."
Defending track champion Dale Irby looked to have wrapped up his first win on the young season as it seemed nobody had a true shot to overtake him throughout a majority of the race. A late green, white, checkered restart set up George for the last lap pass for the win as he nipped Irby at the line by a bumper as they drag raced to the checker.
Fronsman picked up where he left off in the Stock Car division as he brought home the win after grabbing the lead early and never looking back. Cody Center ran a strong runner-up race until Colorado driver Joe Bellm was able to overtake the second spot.
Vlasity kept his strong performances rolling through the new year as he found his way to victory lane in the Hobby Stock feature after fighting off Bradley Stafford for the win. 
Feature Results
Modifieds – 1. Ricky Thornton Jr.; 2. Hunter Marriott; 3. Chaz Baca; 4. Shawn Strand; 5. Jason Noll; 6. Jason Wolla; 7. Brian Schultz; 8. Zachary Madrid; 9. Kelsie Foley; 10. Duane Rogers; 11. Bubba Stafford; 12. Ross Statham; 13. Brent Schlafmann; 14. Roy Poeling Sr.; 15. Steve Streeter; 16. Kenny Gill; 17. Guy Norton; 18. Garth Dushanek.
Stock Cars – 1. George Fronsman; 2. Joe Bellm; 3. Cody Center; 4. Dennis Losing; 5. Gene Henrie; 6. Nick Langer; 7. Mike Shea; 8. Thomas Daffern; 9. Vance Honea; 10. Rod Glenn. 
Hobby Stocks – 1. Joe Vlasity; 2. Bradley Stafford; 3. Merle Zachrison; 4. Max Zachrison; 5. Paul O'Connor; 6. Richard Bennett; 7. Shane Raines; 8. Bill Cole; 9. Allen Hakes; 10. Ray Suchta; 11. Joe Peterson; 12. Justin Thornton; 13. Kyle Cardinal; 14. Chucky Thornton.
Northern SportMods – 1. Jason George; 2. Dale Irby; 3. Speedy Madrid; 4. Bill Miller; 5. Chase Alves; 6. Rene Madrid; 7. Marlowe Wrightsman; 8. Chuck Black; 9. Roy Poeling Jr.; 10. Chris Anderson.