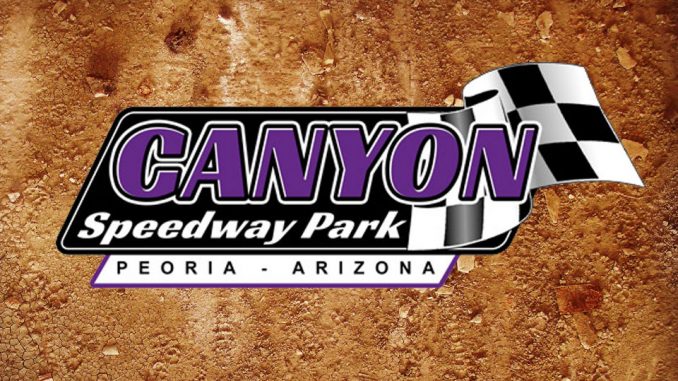 By Tony Steele
PEORIA, Ariz. (Jan 21) – As if we are reliving the 2016 Winter Challenge, Hunter Marriott evened the score on Sunday with opening night IMCA Modified winner Ricky Thornton Jr.
Marriott snagged the lead early in the $1,000 to win IMCA Modified main event at Canyon Speedway Park and never relinquished it as Jason Noll and Thornton battled for the runner-up position.
Marriott utilized a front row starting spot to establish an early lead in the 25-lap feature event. Once he gained control, Marriott – already on the ballot for the Fast Shafts Allstar Invitational –never looked back while Thornton and Noll tussled for second.
Utilizing the middle to the high side of the track, Thornton and Noll swapped the spot numerous times before Thornton eventually took it over with Noll holding onto third. Brian Schultz charged from the 12th starting spot to fourth with defending national champion Jason Wolla rounding out the top five from his 11th starting spot.
Speedy Madrid brought home his first win of the year in the Karl Chevrolet Northern SportMods and Joe Bellm knocked George Fronsman off the throne in the IMCA Sunoco Stock Cars. Joe Vlasity dominated en route to a sweep in the IMCA Sunoco Hobby Stocks.
Madrid rolled from his third starting spot to the win ahead of Jason George, who mirrored his luck on day one as he spun early in the feature and went to the rear of the field.
Much like Saturday, he worked his way all the way back to the front and sat in the cat bird seat while the field lined up for a green, white, checkered restart. As the field raced the checkers, Madrid was simply too strong as he stuck his car on the bottom and drove away to the win.
Bellm who traveled from Colorado, bested Cody Center in the battle for the lead early in the Stock Car event, then held the front spot to the checkers.
Vlasity dominated en route to another Hobby Stock victory. After winning six races in nine events during the 2017 campaign, Vlasity is now two for two to start the new season.
All four divisions return to Winter Challenge Series action Jan. 27 and 28 at Peoria.
Feature Results
Modifieds – 1. Hunter Marriott; 2. Ricky Thornton Jr.; 3. Jason Noll; 4. Brian Schultz; 5. Jason Wolla; 6. Shawn Strand; 7. Spencer Wilson; 8. Zachary Madrid; 9. Garth Dushanek; 10. Brent Schlafmann; 11. Kenny Gill; 12. Duane Rogers; 13. Roy Poeling Sr.; 14. Steve Streeter; 15. Ross Statham; 16. Kelsie Foley; 17. Marlyn Seidler; 18. Bubba Stafford Jr.; 19. Jeff Stafford Sr.; 20. Robby Stancliff; 21. Chaz Baca.
Stock Cars – 1. Joe Bellm; 2. Cody Center; 3. Vance Honea; 4. Thomas Daffern; 5. Dennis Losing; 6. Mike Shea; 7. Larry Brigner; 8. George Fronsman; 9. Gene Henrie.
Hobby Stocks – 1. Joe Vlasity; 2. Bradley Stafford; 3. Justin Thornton; 4. Merle Zachrison; 5. Max Zachrison; 6. Shane Raines; 7. Jimmy Stephans; 8. Bill Cole; 9. Allen Hakes; 10. Jeremy Alday.
Northern SportMods – 1. Speedy Madrid; 2. Jason George; 3. Chase Alves; 4. Roy Poeling Jr.; 5. Bill Miller; 6. Steve Duffy; 7. Chris Anderson; 8. T.J. Wyman; 9. Mike Goodwin; 10. Rene Madrid.