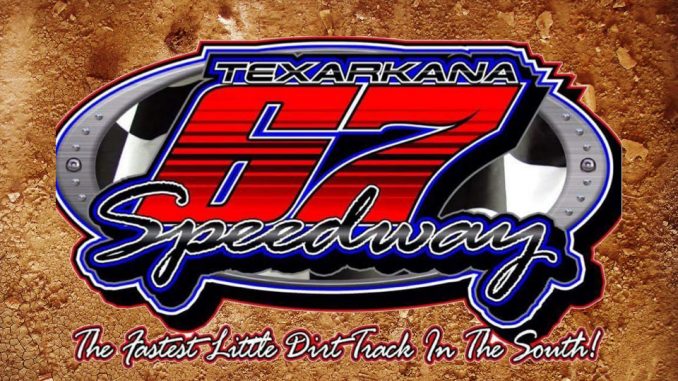 TEXARKANA, Ark. (Jan. 8) – Promoter Dennis Gardner Jr. is looking forward to seeing a lot of the area race cars that have been sitting idle the past few seasons back on the Texarkana 67 Speedway oval this season.
IMCA Modifieds and IMCA Southern SportMods are new in 2018 to Friday night programs at the ¼-mile dirt speedplant. The IMCA Speedway Motors Weekly Racing Na­tional point season for both divisions runs from April 6 to Aug. 31.
"There is a lot of interest in the IMCA sanction. A lot of people are excited about it," Gardner said. "We already have 15 to 20 Modified drivers in the area who are converting their old cars or build­ing new cars."
All that interest is understandable as the Modified track champion will receive a 2018 chassis pur­chased by Texarkana 67 from Larry Shaw Race Cars.
The Texarkana 67 management team was in charge of four events last fall. The IMCA rules pack­age in general and economics in particular figured in their decision to sanction beginning this year.
"Three years ago in our area, there were 40 Modifieds. Then another sanctioning body came in and now there are about 10," explained Gardner, who turned laps at Texarkana himself in a modi­fied, street stock and limited modified. "There are a lot of cars sitting in shops not going anywhere now but IMCA rules put everybody on the same page."
"The cost of racing in our area has gotten out of hand and that's been plum aggravating," he contin­ued. "We want drivers to realize they don't have to build $12,000, $15,000 or $18,000 en­gines. With IMCA, they can buy a built engine or crate engine and afford to compete."
A guaranteed purse will be announced and Modified points earned at Texarkana 67 will apply in the Jet Racing Central Region or Razor Chassis South Central Region.
IMCA Modifieds were last sanctioned at what was then Texarkana Speedway in 1999. Southern SportMods last ran in Arkansas in 2007.
"We are hoping to sanction Hobby Stocks with IMCA in the future," Gardner said. "We are using IMCA rules for our Sport Compact class and averaged 20 to 25 of them a night. We also want to sanction that division, possibly as soon as next year."