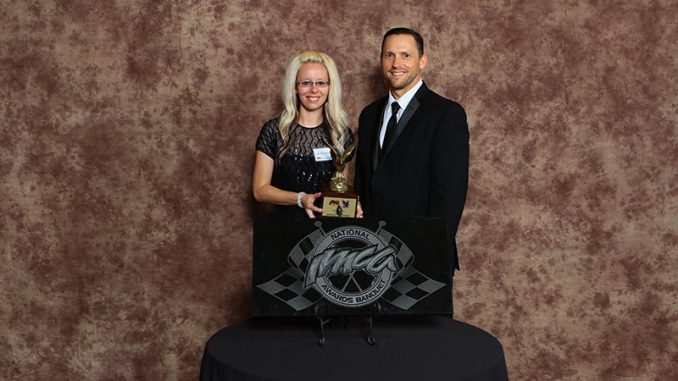 COLUMBUS, Neb. – Brooke Fluckiger ended her six-year Mach-1 Sport Compact career with a couple of career highlights.
Fluckiger, from Columbus, Neb., raced to a top-five finish at the IMCA Speedway Motors Super Nationals fueled by Casey's, then put the wraps on 2017 by winning the coveted Design 500 Lady Eagle award.
Champion at Boone County Raceway and U.S. 30 Speedway as well as the Allstar Performance Nebraska State champion, Fluckiger had the top point total among the 200-plus female drivers who competed in IMCA this season.
"Winning the Lady Eagle has always been in the back of my mind," said Fluckiger, a Duncan native and cousin of Modified hotshoes Dylan Smith and Damian Smith. "I'm very proud to be able to have done it racing against the top competition in Nebraska and the United States. It's nice to show other female drivers we can race with the guys."
"Super Nationals was probably the most exciting part of the season," she added. "We've totaled a car at Boone before so being able to finish just outside the top four had to be the best part of the year."
Fluckiger racked up nine feature wins on the way to finishing 11th in the national standings, adding Saturday trips to Off Road Speedway and some Sunday starts at Raceway Park to pick up more invaluable seat time.
"We knew we had the car," she said. "We wanted to get the track championships and push for the Lady Eagle so we started racing four nights a week toward the end of the year."
Fluckiger credits boyfriend and crew chief Jeff Ware – also a Nebraska State and two-time track champion this season – with getting her on track. Colby Kaspar also helps crew and she'll join both in the IMCA Sunoco Hobby Stock division next year: Fluckiger picked up a 2015 Charger Chassis the weekend after the national awards banquet.
"We'll probably stay local at first," she said, "then we'll travel more."
Fluckiger's sponsors include her parents Mark and Paula Fluckiger, grandparents Richard and Shirley Robak and aunt Karen and Heavy; Jeff Ware; Kaspar Racing, Dale & Valerie Runquist, Shane's Repair, Fluckiger Farms and My Place Bar & Grill, all of Duncan; Charger Chassis of David City; Ware Racing, Dennis Jackson, O'Borny's Husker Bar, Gotschall's, Lincoln's and Marshall's, all of Columbus; Barber and Sons Trucking of Platte Center; Dylan Smith Racing of Osceola; and Tom's Service of Pierce.