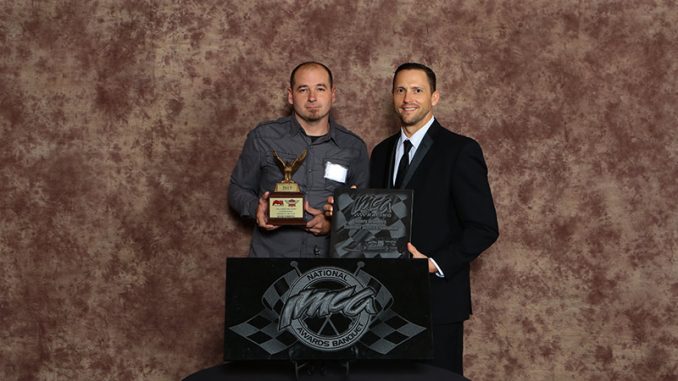 MALVERN, Iowa – A bad back finally did what the competition couldn't: Beat Jesse Sobbing.
Sobbing made IMCA Late Model tour history in 2017, becoming the first driver to win both the Deery Brother Summer Series championship and rookie of the year award in the same season.
His health, however, may dictate that the Malvern, Iowa driver doesn't get a chance to defend his latest IMCA championship. He's had three back surgeries and a fourth is likely before the end of the calendar year.
"I love racing. This was my 13th year racing and in 10 of those years I raced more than 100 times. It's what I've lived and breathed," Sobbing said. "My wife Brandi has been a huge part of my rac­ing and put up with a lot over the years. We talked about it and decided late in 2016 that this would be my last season."
The two-time Karl Chevrolet Northern SportMod national champion and former champion of IMCA's Northern Region for Modifieds considered various divisions before settling on the Late Models.
A handful of starts had given him a familiarity with the division. Following the Deery Series also gave Sobbing the opportunity to race at a number of tracks he'd never been to; another bonus was racing with series Ironman Darrel DeFrance.
"I've been a fan of his for a long time," Sobbing said, "and got to talk with him a lot during the se­ries this year."
While the series took him to new tracks, Sobbing's one Deery win came on Memorial Day at a speedway that hadn't always been kind to him in the past.
"At the start of the year, my goal was to finish in the top five in points and to win a race. To win at Boone was obviously pretty awesome," he said. "Boone and I haven't gotten along. I couldn't ever get anything going there in a Northern SportMod."
A one-man team for the better part of the season, Sobbing had another four top five finishes. He came back from an early crash that resulted in consider­able front end damage to his car to wrap up the tour title and rookie award with a 15th place showing in the finale at West Liberty.
"Winning the Deery Series championship and rookie of the year is probably at the top of the list of eve­rything I've done," he said. "I had never been to a race before I bought my first car and in 13 years I don't think I've gone to a race and just watched more than five times."
"I may lay low for a while," continued Sobbing. "I have had friends offer me a car so I might race a special here and there."
Sobbing owns a trucking company and has spent part of his post-season driving a combine for a friend. He's also looking forward to more family time with daughters Cassidy, 9, and Stella, 11 months.
Starts-12
Win-1
Additional Top Fives-4 
HIS CREW: Josh Most, Lance Most and Todd Malmstrom. 
HIS SPONSORS: Malvern Bank of Malvern; Storm Solution Specialists of Omaha, Neb.; and Dy­namic Power of Moline, Ill.