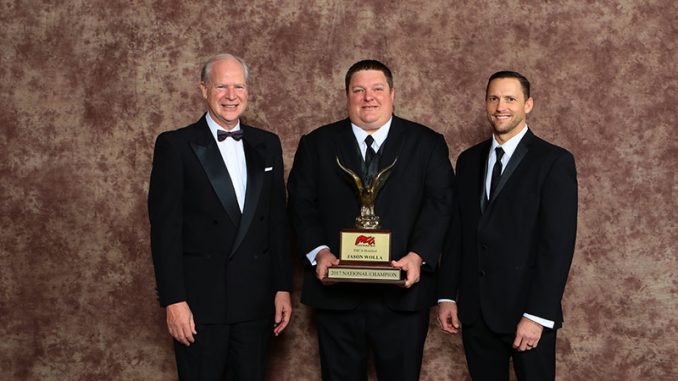 RAY, N.D. – His season-opening sweep of Winter Challenge features at Canyon Speedway Park in Arizona got Jason Wolla thinking that the 2017 season could be special.
After his runner-up finish in the Iowa Frostbuster Series, he knew it would be.
"There are a lot of good cars in the Frostbuster. It helps us tune up for the point season," said Wolla, who went on to win 23 IMCA Modified features in his home state and become the first driver from North Dakota to win a national championship in any sanctioned division. "Getting in more laps early in the year is key to winning later in the season."
"We have a lot of quality cars that race weekly in North Dakota. A lot of people don't realize the car count averages we have," continued Wolla, nicknamed The Big Show. "We proved this year that if you're willing to put the miles on, you can be in the hunt. There are enough cars that bonus points definitely work in your favor."
From Ray and also the first North Dakota driver to wear IMCA's Side Biter Chassis North Central Region crown, Wolla more than doubled his career win total in the division with his 25 checkers in 2017.
With new crew chief Jake Steffen on board, he won nine times at Southwest Speedway and six times at both Nodak Speedway and Dacotah Speedway, earning track titles at Williston and Minot and ending fifth in points at Mandan.
"We'd drive three hours to race at Mandan on Friday, then another hour and a half to race Saturdays at Dickinson, and three to three and a half hours to race Sundays at Minot," Wolla said. "A lot of weekends we left home on Friday and got home late Sunday night or early Monday morning."
Battling Cory Sample for the national title, Wolla won seven of nine August starts, including five in a row to end the month. Another weekend sweep, at Dacotah, Southwest and Nodak on Aug. 25-27, helped him clinch the national prize.
"Things worked out good for us," Wolla said of his banner August. "There were times in the year when we were close to a weekend sweep. Those elevate you. You work for weekends like that."
The repeat Allstar Performance State champion was also a two-time winner at McLean County Speedway. Wolla qualified all six nights of the Kupper Chevrolet Dakota Classic Tour and finished fourth in those standings.
"It means a lot to me to have the title of national champion," he said. "There were a lot of good drivers I watched growing up and I wanted to have the kind of success they did. It means a lot to me to be the first IMCA national champion from North Dakota."
That title is one of two Wolla gained this year. The other is Dad.
"Winning the national championship would have to be number two on my list of highlights," he said. "Samantha and I became parents of twins (son Odin and daughter Lily) on March 14. There are nights when you don't get a lot of sleep racing. There are more nights when you don't get a lot of sleep when you have twins."
Starts-62
Wins-25
Additional Top Fives-18
HIS CREW: Jake Steffen, father Rick and Duane Knutson.
HIS SPONSORS: Wolla Trucking, Wolla Oilfield Services, Fusion Fabrication and Basin Tubin' Testin', all of Williston; Gohrick Farms of McGregor; Dirt Defender of Red Oak, Texas; Fast Shafts of Des Moines, Iowa; Precision Performance of Cosgrove, Iowa; and Rage Chassis of West Union, Iowa.