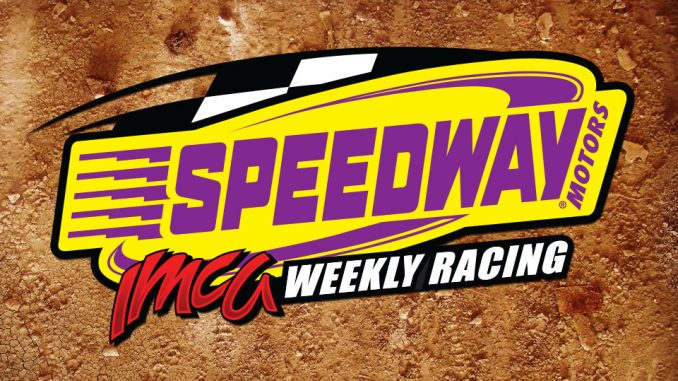 LINCOLN, Neb. – Two of the race tracks synonymous with the Modified division since its earliest seasons are among the 50 speedways to be honored during the national IMCA awards banquet on Nov. 25 in Lincoln, Neb.
Boone Speedway and Independence Motor Speedway will be recognized for 35 years of sanctioning their Modified divisions with IMCA. In all, tracks from 17 states with a total of 740 consecutive years of sanctioning one or more divisions receive awards during the evening.
A 30-year Modified plaque goes to Crystal Motor Speedway. Twenty-five year awards go to Mohave Valley Raceway and Sweetwater Speedway for Modifieds, Outagamie Speedway and Redwood Speedway for Stock Cars, and Buena Vista Raceway for Hobby Stocks.
Receiving 20-year plaques will be 281 Speedway, BVR and Dacotah Speedway for Modifieds and Davenport Speedway for Late Models.
Fifteen-year awards go to Winnemucca Regional Raceway, Modifieds, and Lincoln County Raceway, Stock Cars.
Awards for a decade of sanctioning will be presented to Phillips County Raceway, Sherman County Speedway and Thomas County Speedway for Modifieds, Stock Cars and Hobby Stocks; Dodge City Raceway Park for Modifieds and Stock Cars; Hamilton County Speedway for Modifieds and Hobby Stocks; Desert Thunder Raceway and Lovelock Speedway for Modifieds; Dubuque Speedway and Farley Speedway for Late Models; Keller Auto Speedway at Kings Fairground and Quincy Raceway for Stock Cars; and Beatrice Speedway, Independence and Outagamie for Northern SportMods.
And 37 five-year plaques will be presented to 28 tracks, including:
Crawford County Speedway for Modifieds, Stock Cars, Hobby Stocks, Northern SportMods and Sport Compacts; Roadrunner Speedway for Modifieds, Stock Cars, Southern SportMods and Hobby Stocks; 141 Speedway for Modifieds and Stock Cars; Central Arizona Speedway, Cottage Grove Speedway, Jackson Motorplex, Petaluma Speedway, Siskiyou Motor Speedway, Southern Oregon Speedway, Sunset Speedway Park and Willamette Speedway for Modifieds; Merced Speedway for Modifieds and Northern SportMods; Boone County Raceway and Oshkosh SpeedZone Raceway for Stock Cars; Lee County Speedway and Stuart Raceway for Hobby Stocks; Cocopah Speedway, Davenport, Eagle Raceway, I-76 Speedway, Maquoketa Speedway, McLean County Speedway, Santa Maria Raceway and Williston Basin Speedway for Northern SportMods; El Paso County Raceway for Southern SportMods; and Clay County Fair Speedway, Hancock County Speedway and Kossuth County Speedway for Sport Compacts.
The awards banquet will be held at the Cornhusker Marriott Hotel in down­town Lincoln. Drivers winning champion­ships and rookie of the year awards will be honored and sponsor awards will also be presented during the evening.
Cocktails are at 5 p.m. with dinner at 6 p.m. and the awards ceremony to follow.  Tickets are $35 each and available by calling the IMCA home office at 319 472-2201.
Banquet goers can call 866 706-7706 and request the IMCA group rate regarding Saturday over­night accommodations. RSVPs are also requested from those planning to attend the Friday, Nov. 24 open house at the Smith Collection of American Speed, on the Speedway Motors campus in Lincoln.