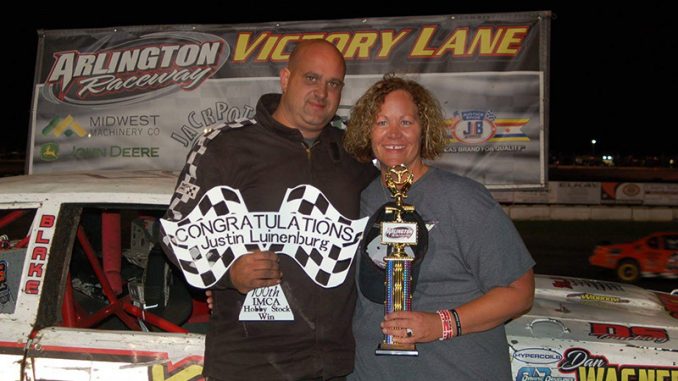 READING, Minn. – Justin Luinenburg would have liked to have gotten his career 100th IMCA Sunoco Hobby Stock feature win before his final race of the season, but he's happy things worked out the way they did.
Luinenburg collected the landmark checkers Saturday at Arlington Raceway, when the Sept. 23 season championship program doubled as a night to honor the late Scott Schoknecht.
"It was nice to get my 100th win on that night," said Luinenburg, from Reading, Minn. "I knew Scotty pretty good so it was special to win at his memorial race."
The victory was Luinenburg's 23rd of the season and 71st in the last three years. He'd also won 23 times during his 2015 national championship campaign and followed up with a career-best 25 wins in 2016.
"Winning 100 features and winning a national championship are neat accomplishments. Very few drivers have done them both," Luinenburg said. "The national title is pretty great because it's neat to be the top dog, but you have to have a heck of a season to be able to do it."
"Winning 100 features was never a goal and I was surprised the first time someone from IMCA called and told me I was getting close," he continued. "I thought if we could get to 100 wins it would be a good season but you have to keep doing the work at the shop, you've had to have a great crew and you have to have some luck at the track."
Luinenburg is the eighth Hobby Stock driver to reach the 100-win mark and the first to do so this season.
"The competition is getting tougher. No matter where you go, there are fast cars," said Luinen­burg. "It's not easy to win when you're racing against guys like Cory Probst (a 20-time winner this season and runner-up Saturday at Arlington.) I'm fortunate to have had the success I've had in this division.
He also enjoyed some success at Boone Speedway earlier this month, qualifying for the first time for the IMCA Speedway Motors Super Nationals fueled by Casey's main event.
"It was good to qualify on the first night," said Luinenburg, who advanced 14 positions to finish ninth. "I would liked to have started a little further toward the front but it was neat to make the race. We were happy with the way the race turned out."