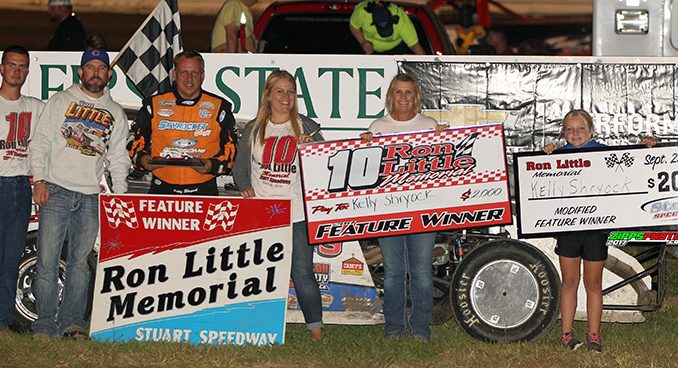 STUART, Iowa (Sept. 23) – While he's known to prefer bigger tracks, Kelly Shryock has added quarter-mile Stuart Speedway to his list of favorites.
Shryock held off Richie Gustin in winning Saturday's Ron Little Memorial IMCA Modified main event, earning $2,000 and a Fast Shafts All-Star Invitational ballot berth.
"My dad raced here but this was this first time I'd raced at Stuart myself," Shryock said following his 15th win of the season and IMCA career 81st checkers. "I came out of hot laps thinking it was fast. Stuart is a racy, fun little track."
He'd swapped the lead in traffic with Nick Roberts a couple times before Gustin, the champion at the IMCA Speedway Motors Super Nationals fueled by Casey's, came calling.
"There were a number of yellows and we were kind of saving our tires. We didn't know how hard we'd been on them," said Shryock. "I knew Richie was back there and thought oh boy, he's been on a pretty good roll."
Shryock held on to win the 30-lapper ahead of Gustin, Shane DeMey, Cody Laney and Jeff James.
"I raced with Ron back in the day," he said afterwards. "It was a neat event to be part of and a neat race to win."
Hard charger Jason Murray raced from last starting in the field of 26 to seventh.
Topping $500 to win features were Damon Murty in the IMCA Sunoco Stock Cars, Jeff Anderson in the IMCA Sunoco Hobby Stocks and Austin Luellen in the Karl Chevrolet Northern SportMods.
Murty won ahead of 10th starting Mike Nichols and Josh Daniels. Murty also won the Friday Fever Heat show at Stuart to earn a $500 bonus for his weekend sweep.
Corey Madden and Eric Stanton completed the Hobby Stock three. Matt Webb was second and Colton Nelson third in the Northern SportMod feature.
Feature Results
Modifeds – 1. Kelly Shryock; 2. Richie Gustin; 3. Shane DeMey; 4. Cody Laney; 5. Jeff James; 6. Ja­cob Murray; 7. Jason Murray; 8. Todd VanEaton; 9. Nick Roberts; 10. Josh Gilman; 11. Bob Daniels; 12. Sean Barragan; 13. Tony Hilgenberg; 14. T.J. Patterson; 15. Rob Rose; 16. Scott Bash; 17. Lloyd Henderson; 18. Matthew Meinecke; 19. Russ Dickerson; 20. Clint Luellen; 21. Jimmy Gustin; 22. Ricky Stephan; 23. Joe McBirnie; 24. Ryan Jenkins; 25. Todd Shute; 26. Bill Heinkel.
Stock Cars – 1. Damon Murty; 2. Mike Nichols; 3. Josh Daniels; 4. Brandon Pruitt; 5. Chris Pruitt; 6. Ty Hill; 7. Brock Badger; 8. Corey Piffer; 9. Brad Herring; 10. Kellie Schmit; 11. Dusty Van Horn; 12. Jordan Riesberg; 13. Buck Schafroth; 14. Andrew Knode; 15. Marcus Fagan; 16. Rob­ert Stofer; 17. Rod Richards; 18. Chad LeGere; 19. Brian Blessington; 20. Bryan Snell; 21. Mat­thew West.
Hobby Stocks – 1. Jeff Anderson; 2. Corey Madden; 3. Eric Stanton; 4. Jamie Schirm; 5. Mike Goldsberry; 6. Keith Burg; 7. Jamie Songer; 8. Dustin Graham; 9. Korbin Nourse; 10. Chuck Mad­den; 11. Brandon Cox; 12. J.R. Croy; 13. David McQuiston; 14. Raymond Fees; 15. Justin Mas­chke; 16. Colton Schaaf; 17. Jerry Richards; 18. Josh Monthei; 19. Marcus Kyle; 20. Matt Wahl; 21. David Kimmel; 22. Riley Songer; 23. Ross Marshall; 24. Anthony Goldsberry.
Northern SportMods – 1. Austin Luellen; 2. Matt Webb; 3. Colton Nelson; 4. Jake McBirnie; 5. David Schwartz; 6. Chase Rudolf; 7. Brandon Patava; 8. Thomas Egenberger; 9. Kody Havens; 10. John Watson; 11. Kyle Bentley; 12. Ryan King; 13. Arie Schouten; 14. D.J. Robinson; 15. Hunter Weber; 16. Lynn Brockett; 17. Shawn Kralik; 18. Jerod Weston; 19. Josh Sink; 20. Mat­thew Munyon; 21. Kevin Gyles.