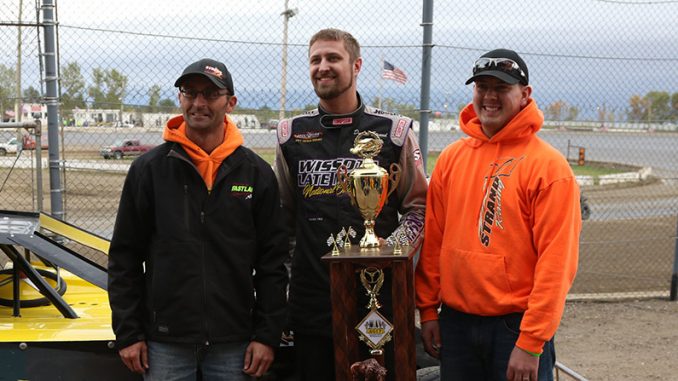 By Mike Spieker
JAMESTOWN, N.D. (Sept. 23) – The 46th edition of the Stock Car Stampede concluded Saturday af­ternoon at Jamestown Speedway with a near capacity crowd on hand.
Coming into the evening, Dustin Strand had won the previous two Stampede championships in the late model division. By the end of the night he added a third Stampede win to his already impres­sive resume, this time behind the wheel of his IMCA Modified and worth $2,000.
The original 62-car field of IMCA Modifieds were whittled down to the fastest 24 for the 30-lap main event. Strand started fifth on the grid and quickly worked his way forward. After moving into second on lap five, Strand drove by Robert Hellebust for the lead on lap 12.
Strand ran relatively unchallenged in the lead until 14th starting Jeremy Keller charged up to se­cond to place a bid for the lead.
"I was running really well around the bottom and it's really tough to change lanes when you're leading," the new Fast Shafts All-Star Invitational ballot qualifier said afterwards. "I never actually saw Keller, but I knew he was coming so I figured I had to do something."
The first-ever Karl Chevrolet Northern SportMod Stampede feature went to Robby Rosselli.
Rosselli took the lead after making a three-wide pass to drive from third to first in one corner. In the closing laps, Rosselli had his hands full with Kelly Jacobson.
Jacobson closed the gap to within a car length as the white flag flew, but Rosselli was able to fend him off to take the $1,000 win.
Feature Results
Modifieds – 1. Dustin Strand; 2. Jeremy Keller; 3. Jason Grimes; 4. Robert Hellebust; 5. Josh Eberhardt; 6. Cory Peterson; 7. Travis Hagen; 8. Tracy Domagala; 9. Dale Mathison; 10. Hank Berry; 11. Donald Robinson; 12. Michael Johnson; 13. Dallas Rice; 14. Ryan Schroeder; 15. Tyler Hall; 16. Travis Olheiser; 17. Trent Grager; 18. Dave Shipley; 19. Casey Skyberg; 20. Jarrett Carter; 21. Rusty Kollman; 22. John Corell; 23. Mike Greseth; 24. Eric Edwards.
Northern SportMods – 1. Robby Rosselli; 2. Kelly Jacobson; 3. Scott Jacobson; 4. Chad Stra­chen; 5. Kelly Henderson; 6. Jesse Skalicky; 7. Chris VanMil; 8. Shane Williams; 9. Luke Krogh; 10. Kevin Eklund; 11. Dylan Barnhardt; 12. Charles Jensen; 13. Kreig Kasin; 14. Dan Evert; 15. Philip Keller; 16. Brock Theis; 17. Billy Michaelsohn; 18. Cole Lewis.