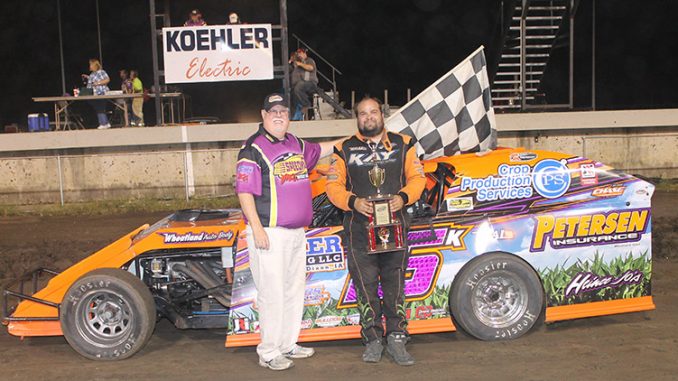 DAVENPORT, Iowa (Sept. 22) – Even when you've won as often as Justin Kay has, you can en­joy new accomplishments.
And on Friday night at Davenport Speedway, that feat was accompanied by a $5,000 check.
Kay earned his second straight Iowa Governor's Cup crown along with the IMCA Modified check­ers. His 2016 Governor's Cup title had come with Late Models as the premiere division.
"It was pretty cool. There were a lot of good cars here," Kay said after the biggest payday of his Modified career. "It rained earlier in the week so the track was a little rough in spots, but I kept looking for the smoothest way around and tried not to let the car push."
He started fourth in the 25-lapper and passed Eric Barnes and then Kurt Kile to get to the front on the sixth circuit.
Chris Simpson was running second when the final caution of the night came out, with six laps left.
"I've raced with Chris enough in a Late Model that I was not going to give up the tires to him," said Kay, already of the 2018 Fast Shafts All-Star Invitational ballot. "I just tried to hit my marks and not screw up."
Simpson, 20th starting Kelly Shryock, Kurt Kile and Milo Veloz rounded out the top five.
Fifty-nine drivers vied for shares of the biggest Modified purse paid in track history.
The 25th annual Governor's Cup also resulted in the career-best payday for Karl Chevrolet North­ern SportMod winner Austen Becerra.
Becerra started on the pole and led all 20 laps to take home $2,000. He'd made just two previous starts at Davenport, and won on Friday ahead of national points leader Tyler Soppe and defend­ing national champion Tony Olson.
"It's pretty awesome. We've known we had a fast car most of the season," said Becerra, who dodged a bullet when he avoided getting caught up in the second of two lap 13 cautions. "It's cool to be able to go to Davenport, race with those guys and win."
Becerra built up a lead of as much as a straightaway at one point. The $2,000 he earned doubled his previous career-best check.
Brayton Carter and Dustin Schram rounded out the Northern SportMod top five.
Features
Modifieds – 1. Justin Kay; 2. Chris Simpson; 3. Kelly Shyrock; 4. Kurt Kile; 5. Milo Veloz; 6. Darin Duffy; 7. Eric Barnes; 8. Bryce Garnhart; 9. Greg Durbin; 10. Brandon Durbin; 11. Jed Freiburger; 12. Travis Denning; 13. Rob Toland; 14. Cody Laney; 15. Jeff Larson; 16. Doug Crampton; 17. Jim Sandusky; 18. Tyler Droste; 19. Jeff Aikey; 20. Brad Dierks; 21. Tyler Madigan; 22. Bruce Hanford; 23. Andrew Schroeder; 24. Patrick Flannagan.
Northern SportMods – 1. Austen Becerra; 2. Tyler Soppe; 3. Tony Olson; 4. Brayton Carter; 5. Dustin Schram; 6. Jake McBirnie; 7. Kevin Goben; 8. Jacob Ellithorpe; 9. Jaden Fryer; 10. Aaron Mitchell; 11. Andrew Burk; 12. Buddy Ray Jones; 13. Kevin Dickey; 14. Gage Neal; 15. Johna­thon Logue; 16. Justin Veloz; 17. Brandon Lennox; 18. Keith Blum; 19. Brandy Cole; 20. Ben Chap­man; 21. Dawson Edwards; 22. Chance Huston; 23. Jake Morris; 24. Doug Burkhead.