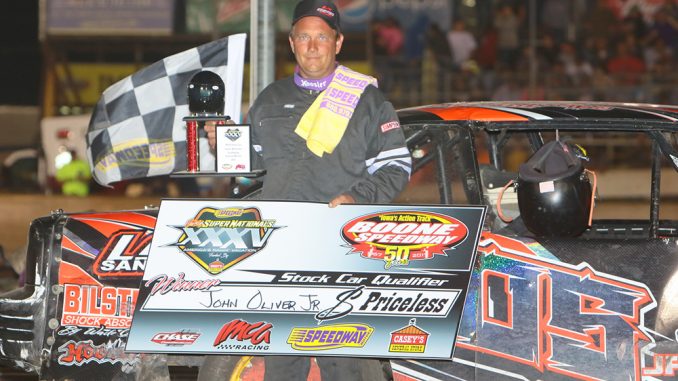 BOONE, Iowa (Sept. 8) – A first-time qualifier and a former champion both made their way to victory lane following Friday night Stock Car features at the IMCA Speedway Motors Super Nationals fueled by Casey's.
John Oliver Jr. of Danville passed Webster City's Reid Keller on the 10th of 25 laps and led to the finish in topping the first qualifier at Boone Speedway.
"I have had the best season I've ever had in my life. This feels great," Oliver said. "This has been a dream come true."
Keller, 13th starting Shaun Bruns of Danube, Minn., and Norman Chesmore of Rowley rounded out the top four behind Oliver.
Devin Smith of Lake City, a driver who's dream came true with the 2014 Super Nationals crown, took charge up front early in the second qualifier and outran persistent Abe Huls of Carthage, Ill., in lapped traffic in winning the second qualifier.
Jason See of Albia and 2001 champion Brian Blessington of Breda were third and fourth, respectively.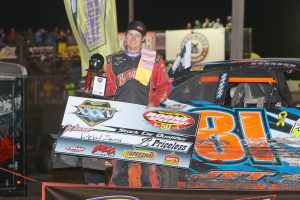 Top four drivers from each qualifier will line up on the outside row of the championship grid.
Joining Oliver in making first main event starts are Keller and See. Smith is in for the second time, Bruns and Chesmore both for the fourth and Huls for the fifth.
Blessington has now qualified for the big dance 13 times. His first Saturday start at Super Nationals was in 1993.
1st qualifying feature – 1. John Oliver Jr., Danville; 2. Reid Keller, Webster City; 3. Shaun Bruns, Danube, Minn.; 4. Norman Chesmore, Rowley; 5. Bryan Rigsby, Topeka, Kan.; 6. Robert Stofer, Jefferson; 7. Aaron Stolp, Suamico, Wis.; 8. Travis Van Straten, Hortonville, Wis.; 9. Gary Mattison, Lamberton, Minn.; 10. Randy Brands, Boyden; 11. Casey Jones, Sioux City; 12. Ned Kalis, Wells, Minn.; 13. Brandon Conkwright, Wamego, Kan.; 14. Nick Tubbs, Colby, Kan.; 15. Kyle Everts, Holland; 16. Jason York, Boone; 17. Jason Ward, Sioux City; 18. Michael Albertsen, Audubon; 19. Rodney Richards, Madrid; 20. Chad Palmer, Renwick; 21. Greg Taylor, Sioux City; 22. Zach Ankrum, Sioux City; 23. Stefan Sybesma, Sanborn; 24. Sterling Sorensen, Portsmouth; 25. Dan Day, Princeton, Texas; 26. Westin Abbey, Comanche, Texas; 27. Michael Murphy, Jefferson; 28. John Heinz, Green Bay, Wis.; 29. Angel Munoz, Lamar, Colo.; 30. Ron Hartman, Ulysses, Kan.
2nd qualifying feature – 1. Devin Smith, Lake City; 2. Abe Huls, Carthage, Ill.; 3. Jason See, Albia; 4. Brian Blessington, Breda; 5. Heath Tulp, Belmond; 6. Todd Reitzler, Grinnell; 7. Kyle Vanover, Beatrice, Neb.; 8. David Smith, Lake City; 9. Ryan Harris, Hubbard, Neb.; 10. Justin Nehring, Storm Lake; 11. Kevin Opheim, Mason City; 12. Michael Dancer, North Platte, Neb.; 13. Russell Damme Jr., Waterloo; 14. William Wade, San Angelo, Texas; 15. Kyle Clough, Wallace, Neb.; 16. Jerry Leary, Little Suamico, Wis.; 17. Gary Goudy Jr., Stoughton, Sask.; 18. Blake Peeler, Trimble, Mo.; 19. Greg Keuhn, Trenton, Mo.; 20. Derek Moede, Casco, Wis.; 21. Donnie Pearson, Oskaloosa; 22. Jeremy Christians, Horicon, Wis.; 23. Jayden Bears, Smithville, Mo.; 24. Aaron Olson, Mekinock, N.D.; 25. Pete Alexander, Albert Lea, Minn.; 26. Wayne Gifford, Boone; 27. Mitch Hovden, Decorah; 28. Les Lundquist, Sioux City; 29. Kevin Mattox, Ray, N.D.; 30. Brett Woznicki, Minot, N.D.