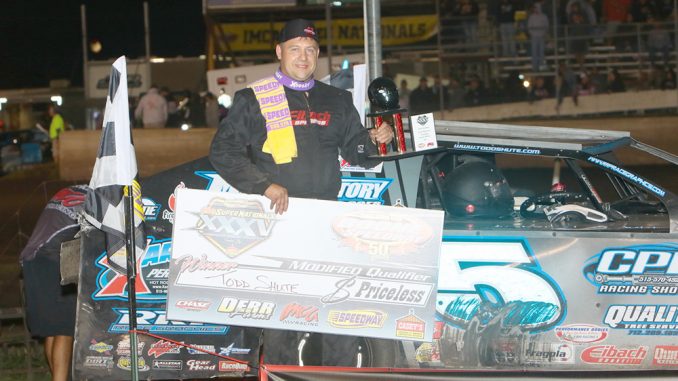 BOONE, Iowa (Sept. 8) – Qualifying feature winners Todd Shute and Ricky Thornton Jr. were two of the four Modified drivers with IMCA Speedway Motors Super Nationals fueled by Casey's champion­ships already on their resumes who punched tickets to 2017's big dance Friday night.
2007 champion Shute of Des Moines topped the first qualifier at Boone Speedway while defend­ing king Thornton of Chandler, Ariz., outran 2011 champ Richie Gustin of Gilman in the second show. 2009 champion Randy Havlik of Ankeny was fourth.
Shute drew the pole start and led start to finish. He ran three wide with lapped traffic in the final circuits, winning in front of Justin Auringer of Evansdale, Jay Noteboom of Hinton and Jeremy Mills of Garner.
"It's been 10 years since I was on this stage. There was a great field of drivers behind me," Shute said post-race. "I can't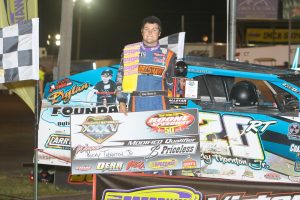 believe this is happening."
Thornton, who'd been disqualified in post-race tech on Thursday, led the last 21 laps of the night­cap, which saw Gustin motor all the way from 26th starting to a transfer spot in just 11 laps. Havlik caught Jordy Nelson for fourth at the finish line.
"The car was real good," said Thornton, also qualified for the Saturday night Stock Car champion­ship event. "I peeked and saw him (Gustin) coming. I ran through the middle and tried to run as hard as I could."
Top four qualifiers from each Friday feature advance to the outside row of Saturday's main event. The final nine cars will be added in last-chance races.
Noteboom is now an 11-time qualifier while Shute starts his career 10th Saturday show. Havlik made the Modified main for the eighth time, Auringer for the seventh, Mills for the sixth, Gustin and Thornton both for the fifth and Alvarado for the second.
1st qualifying feature – 1. Todd Shute, Des Moines; 2. Justin Auringer, Evansdale; 3. Jay Note­boom, Hinton; 4. Jeremy Mills, Garner; 5. Chris Mills, Sioux City; 6. Cory Sample, Winnemucca, Nev.; 7. Hunter Marriott, Brookfield, Mo.; 8. Russ Dickerson, Boone; 9. Mike Jergens, Plover; 10. Riley Simmons, Susanville, Calif.; 11. Cody Laney, Torrance; 12. Stacey Mills, Webb; 13. Clay Money, Penokee, Kan.; 14. Chad Ten Naple, Sioux City; 15. Eric Tomlinson, Robinson, Texas; 16. Le­land Hibdon, Pahrump, Nev.; 17. Tad Reutzel, Burt; 18. Clint Hatlestad, Glencoe, Minn.; 19. Tanner Black, Great Bend, Kan.; 20. Brock Bauman, Eureka, Ill.; 21. Dan Menk, Franklin,Minn.; 22. Todd Inman, Altoona; 23. Tony Snyder, Readlyn; 24. Matthew Kiner, Aurora, Neb.; 25. An­thony Roth, Columbus, Neb.; 26. Joel Bushore, Boone; 27. Trent Loverude, New Ulm, Minn.; 28. Tyler Frye, Belleville, Kan.
2nd qualifying feature – 1. Ricky Thornton Jr., Chandler, Ariz.; 2. Richie Gustin, Gilman; 3. Ricky Alvarado, Delta, Colo.; 4. Randy Havlik, Ankeny; 5. Jordy Nelson, Marysville, Kan.; 6. Scott Ho­gan, Vinton; 7. Tyler Sutton, Beloit, Kan.; 8. Justin O'Brien, West Union; 9. Richard Michael Jr., Ischua, N.Y.; 10. A.J. Ward, Ionia, Mich.; 11. Jordan Grabouski, Beatrice, Neb.; 12. Clinton Luel­len, Minburn; 13. Chad Clancy, Polo, Mo.; 14. Dean Abbey, Roanoke, Texas; 15. Ethan Dotson, Bakersfield, Calif.; 16. Jesse Hoeft, Forest City; 17. Bob Moore, Sioux City; 18. Kyle Strickler, Moores­ville, N.C.; 19. Nick Deal, Harlan; 20. Johnny Saathoff, Beatrice, Neb.; 21. Mike VanGen­deren, Newton; 22. Cory Davis, Eunice, N.M.; 23. Jerry Wren, Howard Lake, Minn.; 24. Ben Kraus, Kanawa; 25. Kent Croskey, Fort Dodge; 26. Todd Cooney, Des Moines; 27. Regan Tafoya, Farmington, N.M; 28. Bruce Egeland, Marshall, Minn.