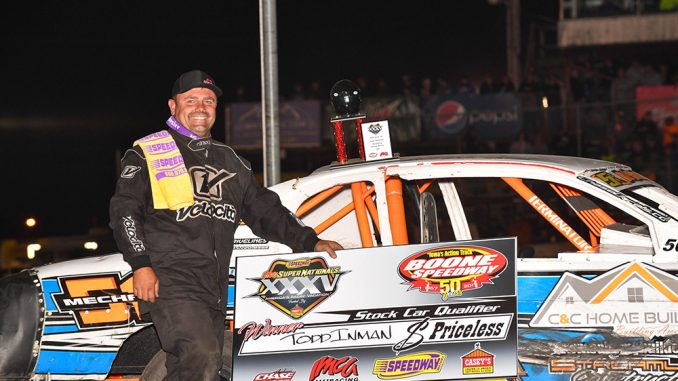 BOONE, Iowa (Sept. 7) – It's been a few years, but Todd Inman proved he could wheel his way to vic­tory lane at Boone Speedway and the IMCA Speedway Motors Super Nationals fueled by Ca­sey's.
Inman, from Ankeny, restarted at the back of the field after cutting a tire on the first lap of Thurs­day's first Stock Car qualifying feature.
He steadily worked his way toward the front and into the top three during a long green flag run, took over the second spot following a lap 17 restart, then got the lead with two laps to go.
"It's been a long time since I've qualified," said Inman, who resumed racing late last season and has made a handful of starts this year in a car owned by cousin Chris Palmer. "It feels awesome."
Inman made the Stock Car main event one time previously, in 2005. He's also made three Late Model and a pair of Modified shows.
Marcus Fagan of Adair ended in second and Jerry Schipper of Dike was third. Defending Modified champion Ricky Thornton Jr. of Chandler became the first Arizona driver to make the Super Nation­als Stock Car field with his fourth place finish.
Webster City's Troy Jerovetz led every lap in the caution-free nightcap.
Rounding out the top four were Trent Murphy of Jefferson, Jeff McCollum of Mankato, Minn., and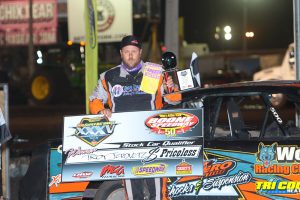 Bruce Wickman of Emmetsburg. Kevin Bruck was disqualified from a transfer spot in post-race tech for an illegal engine component.
Murphy qualified for the eighth time, Fagan for the fifth, Schipper for the third, McCollum for the second and Jerovetz and Wickman both for the first.
Schipper's previous Super Nationals starts came from 1997-1999. Thursday qualifiers advance to the middle row of the big dance.
1st qualifying feature – 1. Todd Inman, Altoona; 2. Marcus Fagan, Adair; 3. Jerry Schipper, Dike; 4. Ricky Thornton Jr., Chandler, Ariz.; 5. Jason Ward, Sioux City; 6. Chad Palmer, Renwick; 7. Gary Mattison, Lamberton, Minn.; 8. Derek Moede, Casco, Wis.; 9. Mathias Lux, Hartley; 10. Ron Hartman, Ulysses, Kan.; 11. Jake Ludeking, Decorah; 12. Mel Elsberry, Orange City; 13. Robert Engelkes, Dike; 14. Kevin Mattox, Ray, N.D.; 15. Mark Smith, Hennessey, Okla.; 16. Ca­sey Jones, Sioux City; 17. Todd Reitzler, Grinnell; 18. Heath Tulp, Belmond; 19. Elijah Zevenber­gen, Ocheyedan; 20. Jayden Bears, Smithville, Mo.; 21. Craig Graham, Webster City; 22. Jason VanSickel, Webster City; 23. Kevin Flock, Muskogee, Okla.; 24. Mike Petersilie, Hoisington, Kan.; 25. Dustin Van Horn, Atlantic; 26. Abe Huls, Carthage, Ill.; 27. Christopher Toot, Albert Lea, Minn.; 28. Dustin Matlock, Oklahoma City, Okla.; 29. Kyle Vanover, Beatrice, Neb.; 30. Brandon Conkwright, Wamego, Kan.
2nd qualifying feature – 1. Troy Jerovetz, Webster City; 2. Trent Murphy, Jefferson; 3. Jeff McCollum, Mankato, Minn.; 4. Bruce Wickman, Emmetsburg; 5. Kevin Opheim, Mason City; 6. Michael Pepper, Lakin, Kan.; 7. Jeffery Kaup, Woodward, Okla.; 8. Justin Nehring, Storm Lake; 9. Aa­ron Olson, Mekinock, N.D.; 10. Michael Albertsen, Audubon; 11. Rodney Richards, Madrid; 12. Scott Reinhardt, Baileys Harbor, Wis.; 13. Jason Purvis, Boone; 14. Michael Goodson, Overbrook, Okla.; 15. Bryan Rigsby, Topeka, Kan.; 16. Matthew Schauer, Arlington, Minn.; 17. David Smith, Lake City; 18. Mike Stapleton, Denison; 19. Eric Rempel, Palmyra, Neb.; 20. Jake Nelson, Willis­ton, N.D.; 21. Kellie Schmit, Britt; 22. Devin Snellenberger, Pulaski, Wis.; 23. Michael Bilyeu, Indi­anola; 24. Sterling Sorensen, Portsmouth; 25. Mike Pruitt, Redfield; 26. Caleb Crenshaw, Fort Worth, Texas; 27. Craig Carlson, Madrid; 28. Jeremy Christians, Horicon, Wis.; 29. Brandon Pruitt, Stuart; 30. Kevin Bruck, Dunlap.