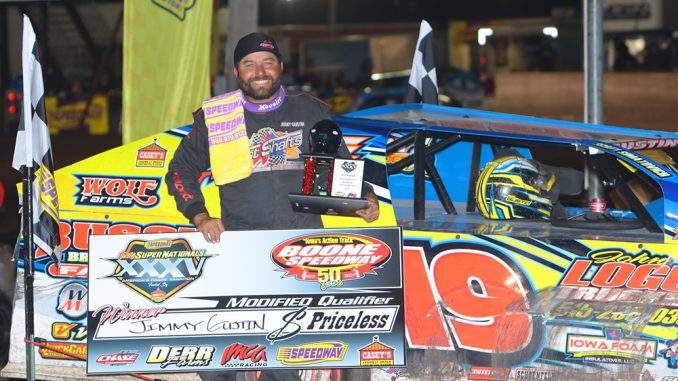 BOONE, Iowa (Sept. 7) – Two Modified drivers who definitely know their way around Boone Speed­way won IMCA Speedway Motors Super Nationals fueled by Casey's qualifying features Thursday night.
2010 champion Jimmy Gustin of Marshalltown led all 25 times around the track in the first quali­fier, which ran green to checkers after a caution on the initial start. Reinbeck's Corey Dripps caught Jonathan Snyder for the lead on lap 17 in the nightcap, then held off Kelly Shryock of Fer­tile following a late restart to win by less than a car length.
Ryan Ruter of Clear Lake and Josh Most of Red Oak settled into second and third early on be­hind Gustin, who put three lapped cars ahead of his closest pursuit. Paul Stone of Winton, Calif., ran fourth most of the way and finished in the final qualifying spot.
"It's pretty awesome," Gustin said after punching his ticket to the Saturday night championship event for the 11th time. "I got lucky, got a jump, stayed in the right part of the track and got it done."
Dripps chased Snyder past midway in the second qualifier, finally finding a way past as the front pair
weaved through lapped traffic.
Snyder, from Ames, was reeling Dripps back in as the leader ran three wide with lapped cars when the caution came out with two to go.
Shryock made the most of the restart, passing Snyder for second but coming up just short at the finish. Eric Elliott of Boone was promoted to the final transfer spot when defending champion Ricky Thornton Jr. was disqualified in post-race tech for use of an unapproved wheel.
"I've looked at his (Shryock's) back bumper for a lot of years. It's nice to outrun him," Dripps said from victory lane. "We had a great car tonight and we're excited about Saturday."
Top four finishers from each Thursday qualifier advance to the middle row of Saturday's starting grid.
Shryock will start his career 12th Super Nationals main event, Dripps, Ruter and Snyder each their sixth. Most is in for the fifth time, Stone for the fourth and Elliott for the first.
Shryock first qualified at Super Nationals in 1988, Dripps in 1996.
A dozen states were represented in both Thursday qualifying features.
1st qualifying feature – 1. Jimmy Gustin, Marshalltown; 2. Ryan Ruter, Clear Lake; 3. Josh Most, Red Oak; 4. Paul Stone, Winton, Calif.; 5. Kyle Strickler, Mooresville, N.C.; 6. Chad Ten Naple, Sioux City; 7. Ricky Alvarado, Delta, Colo.; 8. Joel Bushore, Boone; 9. Jordy Nelson, Marysville, Kan.; 10. Ryan McDaniel, Olivehurst, Calif.; 11. Tyler Droste, Waterloo; 12. Josh Blumer, Marysville, Kan.; 13. Clint Hatlestad, Glencoe, Minn.; 14. Dustin Smith, Lake City; 15. Eric Tomlin­son, Robinson, Texas; 16. Troy Cordes, Dunkerton; 17. Trent Loverude, New Ulm, Minn.; 18. Jesse Richter, Great Bend, Kan.; 19. Cory Sample, Winnemucca, Nev.; 20. Jason Snyder, Dunker­ton; 21. Dennis LaVeine, West Burlington; 22. William Gould, Calera, Okla.; 23. Chad Clancy, Polo, Mo.; 24. Jeff Schroyer, Elkhorn, Neb.; 25. Jim Lynch, Bloomfield; 26. Chad Louk, Jefferson; 27. Cody Laney, Torrance, Calif.; 28. Mike Stregel, Hermitage, Mo.
2nd qualifying feature – 1. Corey Dripps, Reinbeck; 2. Kelly Shryock, Fertile; 3. Jonathan Snyder, Ames; 4. Eric Elliott, Boone; 5. Scott Drake, Joplin, Mo.; 6. Jeremy Mills, Garner; 7. Chad Melton, Mineral Wells, Texas; 8. Brandon Rothzen, Gladstone, Ill.; 9. Dylan Smith, Osceola, Neb.; 10. Mike Petersilie, Hoisington, Kan.; 11. Justin Auringer, Evansdale; 12. Cody Bauman, Eureka, Ill.; 13. Jeff Aikey, Cedar Falls; 14. Clinton Luellen, Minburn; 15. R.J. Merchant, Soiux City; 16. Pey­ton Taylor, Batesville, Ark.; 17. Wayne Johnson, Minot, N.D.; 18. Mike VanGenderen, Newton; 19. John Parmeley, Phoenix, Ariz.; 20. Jerry Wren, Howard Lake, Minn.; 21. Josh Truman, Indianola; 22. A.J. Ward, Ionia, Mich.; 23. Jordan Grabouski, Beatrice, Neb.; 24. Richard Michael Jr., Ischua, N.Y.; 25. Al Wolfgram, Boone; 26. Tyler Prochaska, Iowa Falls; 27. Richie Gustin, Gilman; 28. Ricky Thornton, Jr., Chandler, Ariz.