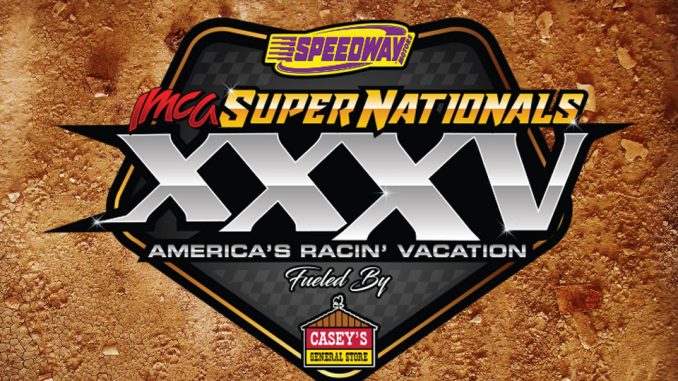 BOONE, Iowa (Sept. 8) – Two-time winner Dustin Smith heads the list of qualifiers for Saturday's Harris Auto Racing Race of Champions.
Smith, from Lake City and the 2013 and 2015 race winner, is one of a dozen Modified drivers who topped Friday heats and will advance to the final day show at the IMCA Speedway Motors Super Nationals fueled by Casey's.
First-time qualifiers are Vern Jackson of Waterloo, Josh Ruby of Lakota, Anthony Roth of Colum­bus, Neb., Johnny Scott of Cameron, Mo., Kyle Strickler of Mooresville, N.C., and Bob Moore of Sioux City.
Mike Van Genderen of Newton, Joel Rust of Grundy Center and Mike Jergens of Plover are all second time qualifiers.
Ryan McDaniel of Olivehurst, Calif., qualifier for the third time and Todd Shute of Des Moines makes his career sixth Harris RoC start.
*
William Gould of Calera, Okla., starts on the pole for tonight's Fast Shafts All-Star Modified Invita­tional, with Clay Money of Penokee, Kan., and Dean Abbey of Roanoke, Texas, completing the front row.
Will Ward of Cobleskill, N.Y., Madrid's Kyle Brown and Johnny Scott of Cameron, Mo., line up on row two. Ethan Dotson of Bakersfield, Calif., Jay Noteboom of Hinton and Todd Shute of Des Moines comprise row three.
Taking the green from row four will be Kelly Shryock of Fertile, Tim Ward of Chandler, Ariz., and A.J. Ward of Ionia, Mich. Row five has Jeremy Payne of Buckeye, Ariz., Hunter Marriott of Brookfield, Mo., and Jason Wolla of Ray, N.D.
On row six are Darin Duffy of Urbana, Cory Sample of Winnemucca, Nev., and Richie Gustin of Gilman. Row seven starters are Corey Dripps of Reinbeck, Kyle Strickler of Mooresville, N.C., and Steven Bowers Jr. of Topeka, Kan.
Clint Luellen of Minburn, Mike Jergens of Plover and Jordan Grabouski of Beatrice, Neb., are on row eight while Ricky Thornton Jr. of Chandler, Ariz., Chris Abelson of Sioux City and Ricky Al­varado of Delta, Colo., start on row nine.
Two-time defending winner Jimmy Gustin of Marshalltown, Matt Guillaume of Haslet, Texas, and Jeff Taylor of Cave City, Ark., complete the 30-car starting grid.