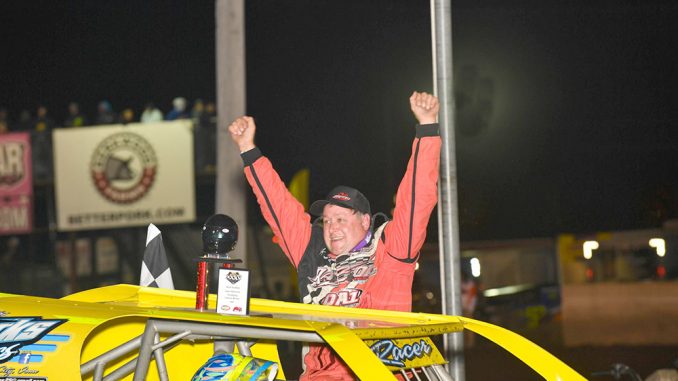 BOONE, Iowa (Sept. 6) – Ricky Stephan didn't think anything could top it when he got his career 100th IMCA Modified feature win this summer.
Now he's not so sure.
The veteran from South Sioux City, Neb., won the first Modified qualifying feature Wednesday at the IMCA Speedway Motors Super Nationals fueled by Casey's, outrunning Whittemore rookie Nick Meyer in lapped traffic late in a fast-paced contest at Boone Speedway.
He'll square off with familiar foe Chris Abelson, winner of the evening's second qualifier, in a friendly game of Rochambeau to determine who starts of the pole in the Saturday night main event.
"I was thinking that my 100th win was the pinnacle of my career. This might top it," said Stephan, who started racing at Super Nationals in the 1980s. "I was breathing pretty hard – I couldn't believe I was leading. I didn't want to lose it because of the lapped cars."
"This win was probably like getting all the right numbers for Powerball," he added during a brief lull in post-race tech. "When it was over I asked myself 'Did this really happen?' It did."
Meyer led early from the pole. The only caution of the race came out on the second of 25 circuits and Stephan took charge on lap five.
"I didn't know if I could go 25 laps. I'm used to 15," said Stephan, who went retro with a yellow ride after spending most of the last three seasons in a red car. "I saw Nick a couple times out of the corner of my eye. All these young guys are making it harder and harder for an old guy like me."
His best finish in six career Saturday starts at Super Nationals was 11th in 2014, the most recent year he qualified.
Joining Stephan and Meyer in transferring were third running Randy McDaniel of Olivehurst, Calif., and Cayden Carter of Oskaloosa, who had qualified for the Saturday Stock Car championship event earlier in the program.
Abelson, from Sioux City and last year's runner-up, caught pole starter Josh Ruby for the lead just after halfway in the second qualifier.
Urbana's Darin Duffy ran second the next 10 laps before giving way to 14th starting Nick Roberts of Des Moines on the final circuit. Drew Christianson of Minot, N.D., was the fourth and final transfer to the Saturday show.
Roberts and Duffy are both former Super Nationals champions in other divisions. Duffy won the Late Model crown in 2003 while Roberts ruled the Northern SportMods in 2012.
Abelson, Duffy and Christianson will all make fifth career starts in the Modified dance. McDaniel, Carter and Roberts are each in for the second time, Meyer of course for the first.
More than 20 states are represented by Modified entries at Super Nationals. Cars from nine of them took the green flag in the first qualifier on Wednesday while cars from 12 states and Canada were in the second.
1st qualifying feature – 1. Ricky Stephan, South Sioux City, Neb.; 2. Nick Meyer, Whittemore; 3. Randy McDaniel, Olivehurst, Calif.; 4. Cayden Carter, Oskaloosa; 5. Randy Roberts, Boone; 6. Clinton Luellen, Minburn; 7. Jeremy Mills, Garner; 8. Joey Price, Great Falls, Mont.; 9. Johnny Saathoff, Beatrice, Neb.; 10. Kyle Brown, Madrid; 11. Justin O'Brien, West Union; 12. Ricky Alvarado, Delta, Colo.; 13. Josh Truman, Indianola; 14. Cory Sample, Winnemucca, Nev.; 15. Clint Hatlestad, Glencoe, Minn.; 16. Todd Cooney, Des Moines; 17. Johnny Scott, Cameron, Mo.; 18. Joe Spillman, Austin, Texas; 19. Ben Kraus, Kanawa; 20. Dan Menk, Franklin, Minn.; 21. Hunter Marriott, Brookfield, Mo.; 22. Josh Blumer, Marysville, Kan.; 23. Matthew Meinecke, Jamaica; 24. Jesse Richter, Great Bend, Kan.; 25. Jeff Streeter, Madera, Calif.; 26. Dean Abbey, Roanoke, Texas; 27. Loren Pesicka Jr., Burt; 28. Al Wolfgram, Boone; 29. Tanner Black, Great Bend, Kan.; 30. Matt Guillaume, Haslet, Texas.
2nd qualifying feature – 1. Chris Abelson, Sioux City; 2. Nick Roberts, Des Moines; 3. Darin Duffy, Urbana; 4. Drew Christianson, Minot, N.D.; 5. David Brown, Kellogg; 6. Jeremy Payne, Buckeye, Ariz.; 7. Todd Shute, Des Moines; 8. Kelly Shryock, Fertile; 9. A.J. Ward, Ionia, Mich.; 10. Dylan Smith, Osceola, Neb.; 11. Mike Petersilie, Hoisington, Kan.; 12. Richard Michael, Jr., Ischua, N.Y.; 13. Mike VanGenderen, Newton; 14. Wade Taylor, Spring Creek, Nev.; 15. Russ Dickerson, Boone; 16. Joe McBirnie, Boone; 17. Josh Ruby, Lakota; 18. William Gould, Calera, Okla.; 19. Kenneth Buck, Canton, Pa.; 20. Tim Watts, Beloit, Kan.; 21. Brian Knoell, Falun, Kan.; 22. Cory Sauerman, Johnston; 23. John Parmeley, Phoenix, Ariz.; 24. Chad Ten Naple, Sioux City; 25. Paul Stone, Winton, Calif.; 26. Shane DeMey, Dennison; 27. Ryan Ruter, Clear Lake; 28. Kody Scholpp, Estevan, Sask.; 29. Jim Peeler, Trimble, Mo.; 30. D.J. Shannon, Merced, Calif.