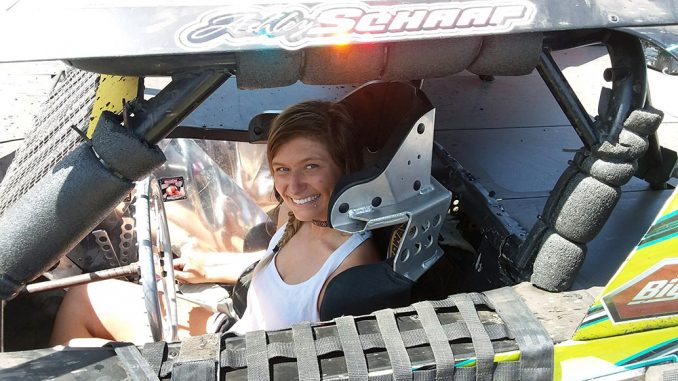 Ashley Schaaf made her Modified debut at Super Nationals in 2015. She's been learning and get­ting faster ever since.
From Lincoln, Neb., and a Beatrice Speedway regular, Schaaf is doubling as driver and crew until her father Dennis gets to Boone on Friday.
"Super Nationals has been a good learning experience for me. There are no slow cars here. It's awesome to race with them," said Schaaf. "My idols are now my rivals. Hopefully I'll be able to run up front with them some day."
She lists grandfather Dennis Schaaf (who also raced in the no. 95), Jimmy Gustin, Mark Noble and Kelly Shryock among her favorite drivers.
Schaaf has battled handling issues over 30-odd starts in her 2009 TRE Chassis this season. When she's at the track by herself – Schaaf, incidentally, travels to weekly shows and specials in Nebraska and adjoining states with an open trailer – she'll ask fellow drivers for advice or make a call home or to a friend in North Carolina who is crew chief for a Late Model team.
The great-granddaughter of coupe driver Ernie Bonney, Schaaf raced go-karts and then SportMods before getting into a Modified. She attended Super Nationals as a spectator her "entire life" before getting into IMCA's calling card division.
"Winning a heat or making the 'A' qualifier would be my goal for this year," said Schaaf. "Ulti­mately, I want to make the show. I want to be competitive year in and year out."