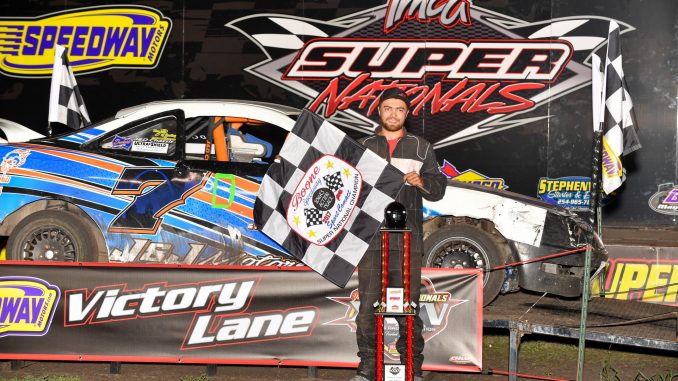 BOONE, Iowa (Sept. 5) – After failing to qualify for the main event in his first IMCA Speedway Motors Super Nationals fueled by Casey's outing last September, Devin Jones
returned to Boone Speedway with a chip on his shoulder.
He went home with the championship trophy and a check for $250.
"It's almost unreal," said Jones, who passed long-time leader Barry Taft on the backstretch with two circuits left in the 25-lapper and then led to the Tuesday night checkers. "It took me a while to find the right line but once I did, that's where I was going."
Taft had started outside the third row, eked ahead briefly following an early restart and passed Mitchell Bielenberg for good just before midway. The 10th starting Jones was up to third by lap 15 and found himself running second when the 16th lap was scored.
It was a two-car race for the crown with five laps left.
"I kind of followed him for a bit before I thought 'This was the lap,'" Jones said. "I passed him, the next lap was the white flag lap and then I took the checkers. Everything worked out really, really well."
Taft, 20th starting Jake Benischek, 22nd starting Dillon Richards and Brooke Fluckiger rounded out the top five in the first main event at the 35th annual Super Nationals.
Eight-four Sport Compacts were entered, matching the Super Nationals record set last Septem­ber. Fifteen of the 30 main event qualifiers came from out of state and 20 of them were in the big show for the first time.
"It's a really good feeling to be able to win this event," said Jones, planning to celebrate later in the evening and maybe hit the snooze button once or twice before going into work on Wednes­day.
Feature results – 1. Devin Jones, Mason City; 2. Barry Taft, Argyle; 3. Jake Benischek, Durant; 4. Dillon Richards, Beatrice, Neb.; 5. Brooke Fluckiger, Columbus, Neb.; 6. Zach Bohlmeyer, Agate, N.D.; 7. Colton Point, Denison; 8. Chuck Fullenkamp, West Point; 9. Tanner Uehling, Nor­folk, Neb.; 10. Oliver Monson, Clear Lake; 11. Riley Paysen, Wall Lake; 12. Brad Havel, Iowa City; 13. John Gill, Marshalltown; 14. Corey Mehrwerth, St. Joseph, Minn.; 15. Matt Brehmer, Krakow, Wis.; 16. Andrew Harris, Dakota, Neb.; 17. Parker Vollbracht, Stanton, Neb.; 18. Ramsey Meyer, Pierce, Neb.; 19. Mitchell Bielenberg, Charlotte; 20. Richard Crow, Grand Island, Neb.; 21. Brody Spreng, Sioux City; 22. Brandon Ruffcorn, Donnellson; 23. Brandon Reu, Donnellson; 24. Brandon Lambert, Cathage, Ill.; 25. Jay DeVries, Spencer; 26. Bryson Fralin, Be­atrice, Neb.; 27. Dan VanderVeen, Sioux City; 28. Neil Forsberg, Slayton, Minn.; 29. Alex Dostal, Glencoe, Minn.; 30. Brendon Yamry, Rice, Minn.