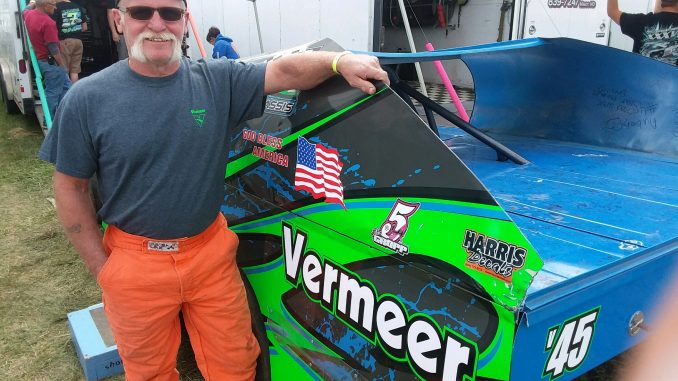 Rik Gropp of Lincoln, Neb., first raced at Super Nationals in 1988. He's qualified for the Modified main event once, finishing seventh in 2003, and didn't miss a trip to Boone from 1990 through 2011.
"At my age, I don't know how much longer I'll be racing. I figured it was time to come back," said Gropp, 59. "When you get older, you quit doing things like this. It was time to come back."
Most of his crew has been to Super Nationals as spectators and this will be the first time they've wrenched at America's Racin' Vacation. Gropp competes weekly at Eagle Raceway so they come well prepared for whatever Super Nationals throws at them.
"We have a fast car," said Gropp, who stayed in the points chase at Eagle until late in the season. "The competition there is pretty tough."
Now nicknamed Racing Relic, Gropp got his start in the sport in 1978 and has been in a Modified since 1988. Vermeer High Plains is his sole sponsor and car owner and he's raced with Kevin Klein of Vermeer for 33 years.
"Everything has changed (at the speedway) since we were here last. They've improved everything," Gropp said before the Wednesday drivers' meeting. "Some things haven't changed. There are a lot of good cars, you've got to get a good draw and you've got to get after it."