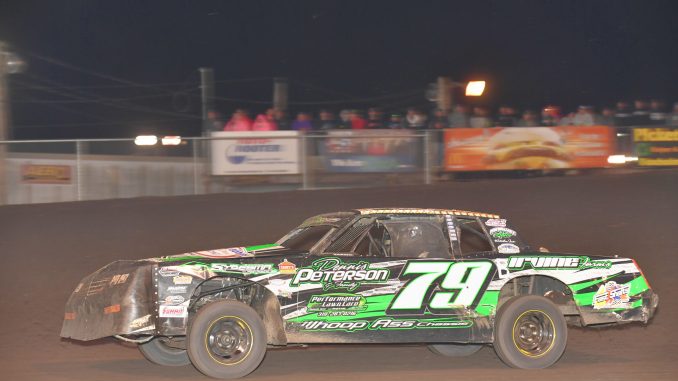 BOONE, Iowa (Sept. 5) – Benji Irvine will start his career fifth IMCA Speedway Motors Super Nationals Hobby Stock championship night start from the outside of the front row Saturday night.
Irvine, from Oelwein, advanced to the outside pole position after Dustin Gulbrandson failed crate engine inspection following Tuesday's qualifying feature.
Avoca's Corey Madden, another Super Nationals veteran, will make his seventh Saturday night start and line up behind Irvine.
Also lining up on the outside row will be Jeff Ware of Columbus, Neb., Dustin Lynch of Boone, Shawn Slezak of Milligan, Neb., 24th starting Jamie Songer of Ankeny, 25th starting Tory Harazin of Redwood Falls, Minn., and Bryce Sommerfeld of Fort Dodge.
Sommerfeld moved up a spot and into the show when Adam Armstrong was disqualified for illegal valve springs.
Slezak and Songer are now four-time Super Nationals qualifiers. Ware and Lynch are in for the second time, Harazin and Sommerfeld both for the first.
Feature results – 1. Benji Irvine, Oelwein; 2. Corey Madden, Avoca; 3. Jeff Ware, Columbus, Neb.; 4. Dustin Lynch, Boone; 5. Shawn Slezak, Milligan, Neb.; 6. Jamie Songer, Ankeny; 7. Tory Harazin, Redwood Falls, Minn.; 8. Bryce Sommerfeld, Fort Dodge; 9. Tyson Overton, Carlisle; 10. Craig Clift, Sioux City; 11. Eric Knutsen, Slater; 12. Jeremiah Wilson, Waterloo; 13. Seth Janssen, Ogden; 14. Kyle Davis, Hinton; 15. Tyler Hinrichs, Americus, Kan.; 16. Ryan Wells, Runnells; 17. Lenny Tucker, South Sioux City, Neb.; 18. Dustin Graham, Boone; 19. Gary Pesicka, Burt; 20. David Rieks, Eldora; 21. Jamie Schirm, Dexter; 22. Myles Michehl, Fort Dodge; 23. Drew Barglof, Sioux Rapids; 24. Andrew Claus, Des Moines; 25. Matt Tiernan, Stuart; 26. Jason Kohl, Missouri Valley; 27. Dustin Gulbrandson, Sioux Falls, S.D.; 28. Adam Armstrong, Beatrice, Neb.