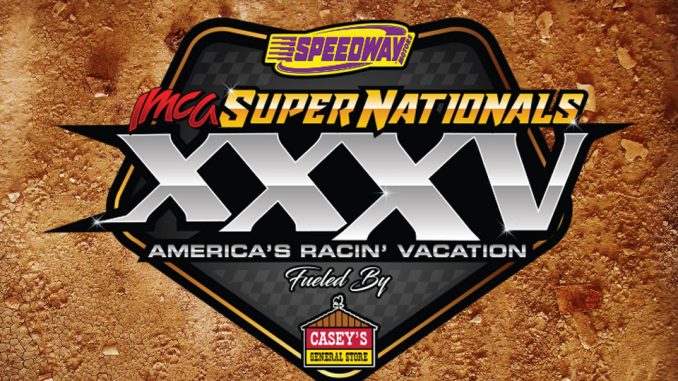 Bowen, Ill., speedster Austen Becerra motored from ninth starting to the lead right before midway, then held off Kyle Olson of Cedar Rapids following a late restart to capture the last-chance event for Northern SportMods Wednesday.
The rest of the top six advancing to Saturday's main event are Joe Docekal of Dysart, Jimmy Berkevich of Watertown, Wis., Robert Moore of Maxwell and Vince Engebregtsen of Algoma, Wis. Moore and Engebregtsen got transfers following disqualifications of Trent Roth for failing real end inspection and Jared Waterman for failing rear suspension inspection.
Becerra, Olson, Berkevich, Moore and Engebregtsen are all first-time qualifiers for the Northern SportMod dance. Docekal has one previous appearance to his credit, in 2008.
Feature results – 1. Austen Becerra, Bowen, Ill.; 2. Kyle Olson, Cedar Rapids; 3. Joe Docekal, Dysart; 4. Jimmy Berkevich, Watertown, Wis.; 5. Robert Moore, Maxwell; 6. Vince Engebregtsen, Algoma, Wis.; 7. Thomas Egenberger, Des Moines; 8. Darin Roepke, LeMars; 9. Chad Shaw, Trimble, Mo.; 10. Robbie Thome, Spalding, Neb.; 11. Thomas Stark, Egg Harbor, Wis.; 12. Tim Warner, Malone, Wis.; 13. Brian Schrage, Cresco; 14. Dusty Masolini, Des Moines; 15. Bill Davis Jr., Des Moines; 16. Tyler Watts, Beloit, Kan.; 17. Brandon Ostwald, Algona; 18. John Watson, Des Moines; 19. Jake Simpson, Algona; 20. Miles (Adam) Shelman, Ames; 21. Rodger Peck, Minneapolis, Kan.; 22. Brayton Carter, Oskaloosa; 23. Austin Luellen, Minburn; 24. Trent Roth, Columbus, Neb.; 25. Jared Waterman, Milan, Ill.