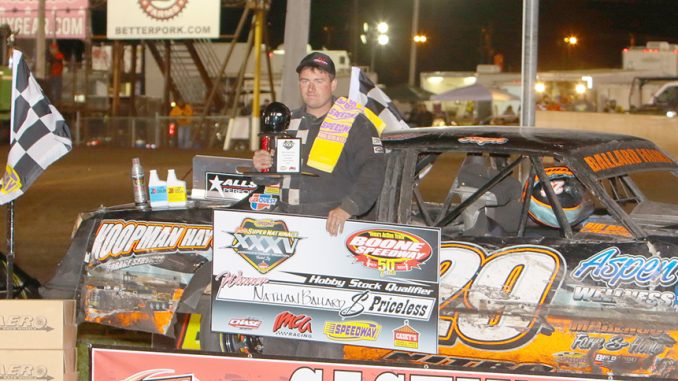 BOONE, Iowa (Sept. 4) – Nathan Ballard took advantage of a mid-race restart in winning the second of two Hobby Stock qualifying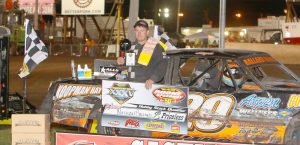 features on Monday, opening night of the IMCA Speedway Motors Super Nationals fueled by Casey's.
Ballard passed Jeff Anderson on the 13th of 25 circuits. The race ran caution-free the rest of the way and Ballard was able to get a bit of breathing room before taking the checkers ahead of Anderson, who had won a pair of Super Nationals titles at Boone Speedway during his storied Stock Car career.
"This has to be one of my biggest career wins," said Ballard, acknowledging both Anderson and his son Shannon, who was runner-up in the evening's first qualifying feature. "We've had a heck of a car all year and it was my kind of track tonight."
The top eight finishers advance to the middle row of Saturday's main event. Ballard, from Marengo, and Anderson, from Atlantic, were chased across the stripe by Cody Nielsen of Spencer, Chanse Hollatz of Clear Lake, Chad Lonneman of Adrian, Minn., Solomon Bennett of Minburn, Jesse VanLaningham of Beatrice, Neb., and Justin Luinenburg of Reading, Minn.
VanLaningham will start the Hobby Stock main for the fifth time in his career, while Ballard is in Nielsen for the third time, for the fourth time, Hollatz and Bennett both the second and Anderson, Lonneman and Luinenburg each for the first.
Feature results – 1. Nathan Ballard, Marengo; 2. Jeff Anderson, Atlantic; 3. Cody Nielsen, Spencer; 4. Chanse Hollatz, Clear Lake; 5. Chad Lonneman, Adrian, Minn.; 6. Solomon Bennett, Minburn; 7. Jesse VanLaningham, Beatrice, Neb.; 8. Justin Luinenburg, Reading, Minn.; 9. Jason Fusselman, Shelby; 10. Andrew Burg, Carlisle; 11. Kyle Sidles, Algona; 12. Jamie Songer, Ankeny; 13. Seth Janssen, Ogden; 14. Andrew Borchardt, Plymouth; 15. Parker Larson, Granada, Minn.; 16. Brian Stich, Topeka, Kan.; 17. David Rieks, Eldora; 18. Zach Hemmingsen, Marne; 19. Allyn Shiveley, Lincoln, Neb.; 20. Shaun Wirtz, Boone; 21. Benji Irvine, Oelwein; 22. Paul Menard, Merrill; 23. Bryce Sommerfeld, Fort Dodge; 24. Shawn Slezak, Milligan, Neb.; 25. Devon Gonas, Midale, Sask.; 26. Shane Butler, Scranton; 27. Adam Armstrong, Beatrice, Neb.; 28. John Ross, Rushmore, Minn.