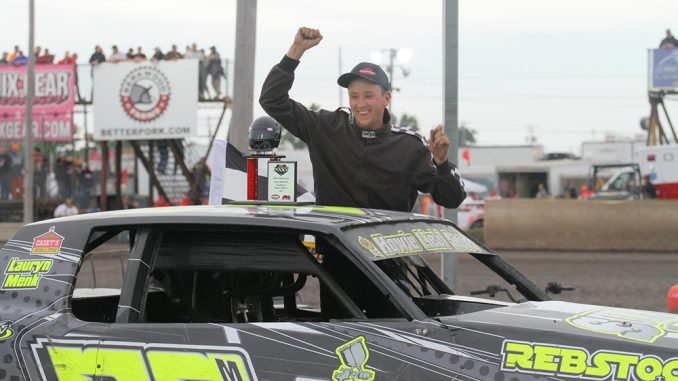 BOONE, Iowa (Sept. 4) – Matt Olson led all 25 laps of the first Hobby Stock qualifying feature Monday at Boone Speedway.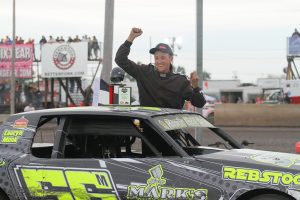 As a result, he'll start on the pole for a second race on championship night Saturday at the IMCA Speedway Motors Super Nationals fueled by Casey's.
Olson, the pride of Franklin, Minn., ran ahead of Eric Stanton past midway, before three-time Super Nationals champion Shannon Anderson took over the runner-up spot.
Anderson, from Des Moines, had made his way up from 13th starting and while he got close, he was never able to get to the front.
"I was just thinking don't miss my marks and stay calm," Olson said during post-race tech. "Starting on the pole for both the race of champions and the feature is something I never dreamed of doing."
Lining up behind Olson and Anderson on the inside row of Saturday's main event will be Stanton, from Carlisle, Aaron Rudolph of Grand Junction, Eric Cross of Salina, Kan., 19th starting Brandon Nielsen of Spencer, 25th starting Sal Hernandez of Columbus, Neb., and Justin Wacha of Vinton.
Anderson qualified for the Saturday night show at Boone for the ninth time, Stanton for the eighth, Rudolph for the fourth, Olson, Nielsen and Hernandez each for the third and Cross for the second. Wacha is a first-time qualifier.
Feature results – 1. Matt Olson, Franklin, Minn.; 2. Shannon Anderson, Des Moines; 3. Eric Stanton, Carlisle; 4. Aaron Rudolph, Grand Junction; 5. Eric Cross, Salina, Kan.; 6. Brandon Nielsen, Spencer; 7. Sal Hernandez, Columbus, Neb.; 8. Justin Wacha, Vinton; 9. Drew Barglof, Sioux Rapids; 10. Matt Brown, Dysart; 11. Jeremiah Wilson, Waterloo; 12. Dustin Gulbrandson, Sioux Falls, S.D.; 13. Corey Madden, Avoca; 14. Tory Harazin, Redwood Falls, Minn.; 15. Andrew Claus, Des Moines;16. TeJay Mielke, Norfolk, Neb.; 17. Scott Pippert, Elberon; 18. Daniel Ayers, Webster City; 19. Derek Willert, Rockford; 20. Ross Marshall, Johnston; 21. John Briggs, Cherokee; 22. Lenny Tucker, South Sioux City, Neb.; 23. Tyson Overton, Carlisle; 24. Ryan Wells, Runnells; 25. Chris Cox, Boone; 26. Tyler Jackson, Lincoln, Neb.; 27. Keeran Sampson, Worthington, Minn.; 28. David Castellano, Des Moines.