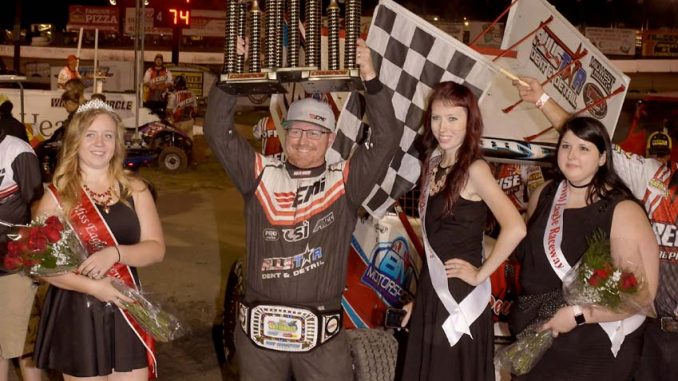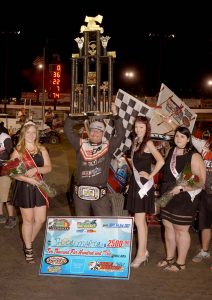 By Greg Soukup
EAGLE, Neb. (Sept. 3) – Jason Martin has had a restless night or two following previous IMCA RaceSaver Sprint Nationals.
He'll have sweet dreams about the 2017 event.
Martin led all but the first two laps in winning the fifth annual Sprint Nationals Sunday at Eagle Raceway. The victory came along with a $2,500 check.
"I'll tell you what, a lot of people say that the track owes you because you've been there in situations like this and something happens, but I don't think that Eagle Raceway owes me anything," said Martin, who had been knocked out of the lead at earlier Nationals by a flat tire or mechanical problems. "I just keep coming back and doing the best that I can. We did the exact same thing that we've done the last three or four years and finally got the job done."
2015 champion John Carney ran second to Martin in their Friday qualifier and again in the big show. Jake Ita Memorial winner Kevin Ramey, 12th starting Jake Bubak and Tyler Drueke completed the top five.
Luke Cranston started 24th in the field of 27 and ended in ninth.
One hundred and eleven cars were entered in Sprint Nationals and eight states were represented in the main event, which played out before the biggest crowd in event history.
Carney had snagged the lead on lap one with Martin, Jack Dover and Toby Chapman in pursuit. Martin, who started on the pole, retook the top spot on lap three. The frontrunners caught lapped traffic before Ramey got past Chapman and started to close in on the top three.
Dover made a big move past Carney for second with nine laps left; Kaleb Johnson brought out the only caution of the race with five to go and Dover took to the infield on the restart, moving Bubak into fourth position.
From there to the finish, with no lapped traffic to interfere, it was Martin's race to lose. Try as they might, no one could catch him, leaving Martin the $2,500 top prize and 2017 IMCA Racesaver Sprint Nationals championship.
"It's kind of a relief and an accomplishment for my whole race team. We've had a flat tire while leading and had a motor go bad, but that's just part of it. You can't linger on things like that, you have to keep coming back," he said. "We've been the fastest car here for the last five years but we haven't been able to win it all until now. My crew gave me the best car, and it showed."
"It was just awesome to be able to prove our race cars are fast, our engines are strong and I can steer the thing," he added. "I'm sure the fans enjoyed a really good show and I want to go back and watch it myself. I'll probably be replaying this whole race in my sleep."
Ramey passed Carney on lap six and led to the finish of Saturday's Jack Ita Memorial.
Feature results – 1. Jason Martin, Lincoln; 2. John Carney II, Lubbock, Texas; 3. Kevin Ramey, Fort Worth, Texas; 4. Jake Bubak, Arvada, Colo.; 5. Tyler Drueke, Eagle; 6. Toby Chapman, Panama; 7. Matt Richards, Lincoln; 8. Joey Danley, Lincoln; 9. Luke Cranston, Holcomb, Kan.; 10. Andy Shouse, Oklahoma City, Okla.; 11. Stu Snyder, Waverly; 12. Adam Gullion, Lincoln; 13. Cody Ledger, Omaha; 14. Mike Boston, Lincoln; 15. Ethan Barrow, Bloomington, Ind.; 16. Robert Vetter, Wolfe City, Texas; 17. Shon Pointer, Grand Island; 18. Doug Lovegrove, Waverly; 19. Justin Fifield, Mesquite, Texas; 20. Jason Danley, Lincoln; 21. Ken Duke Jr., Selinsgrove, Pa.; 22. Dusty Ballenger, Harrisburg, S.D.; 23. Jack Dover, Springfield; 24. Kaleb Johnson, Sioux Falls, S.D.; 25. Blake Dacus. Fletcher, Okla.; 26. Chase Weiler, Lincoln; 27. John Ricketts, Burleson, Texas.
Jake Ita Memorial results – 1. Ramey; 2. Carney; 3. Martin; 4. Dover; 5. Gullion; 6. Fifield; 7. Lovegrove; 8. Drueke; 9. Duke; 10. Bubak; 11. Barrow; 12. Ballenger; 13. Johnson; 14. Cranston; 15. Clint Benson, Papillion; 16. Claud Estes, Godley, Texas; 17. Chapman; 18. Ricketts; 19. Shouse; 20. Jason Howell, Fort Worth, Texas.