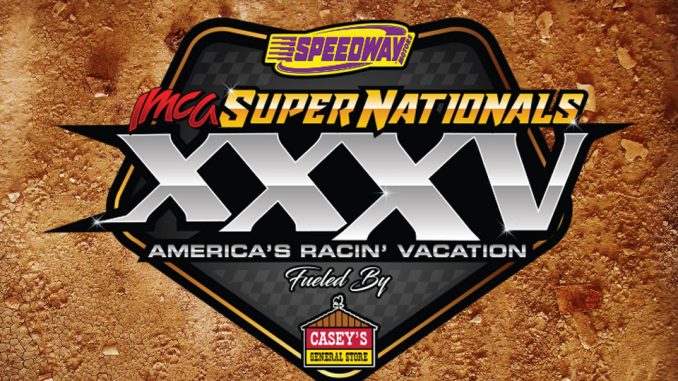 BOONE, Iowa (Sept. 4) – Hot laps are underway on the first day of the 35th annual IMCA Speed­way Motors Super Nationals fueled by Casey's.
The Labor Day program at Boone Speedway begins with qualifying heats for the Stephenville Starter Race of Champions for the Hobby Stocks and BSB Manufacturing Race of Champions for Northern SportMods. Qualifiers for both RoC's will head to the fan zone to determine where they'll start in their respective Saturday event.
The starting fields for two 25-lap qualifying features will be determined by 14 Hobby Stock heats. Twenty heats and the final 25-lap qualifier of the night are on tap for the Northern SportMods.
"B" races for the Hobbies, a "B" qualifier and "C" races for the SportMods, and Modified, Sport Compact and Stock Car hot laps complete the card.
***
Top two finishers in each of the five Hobby Stock and Northern SportMod race of champions heats advanced to Saturday shows.
Three former race winners are in the Hobby Stock RoC. Lining up from first through 10th will be Matt Olson of Franklin, Minn., Tyler Henrichs of Americus, Kan., Chanse Hollatz of Clear Lake, Leah Wroten of Independence, defending winner Brandon Nielsen of Spencer, Jeff Ware of Colum­bus, Neb., 2012 winner Adam Armstrong of Beatrice, Neb., 2011 winner Shannon Ander­son of Des Moines, Sal Hernandez of Columbus, Neb., and Jason Fusselman of Shelby.
The aptly named Race of Champions sees another Minnesota driver, Fort Ripley's Jacob Hage­mann on the pole. Johnathon Logue of Boone, Tony Olson of Cedar Rapids, Dakota Sproul of Ellis, Kan., Kyle Olson of Cedar Rapids, Brett Meyer of Lytton, defending race winner Doug Smith of Lanesboro, Chad Ryerson of Wellsburg, Tyler Soppe of Sherrill and Mike Tanner of Smithville, Mo., round out the starting grid.
Smith, Meyer and Soppe are the only three drivers to have qualified for the RoC previously.