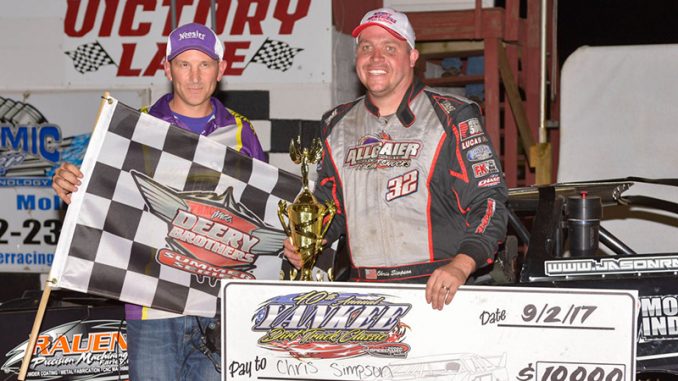 FARLEY, Iowa (Sept. 2) – Along with a unique place in Deery Brothers Summer Series history, Chris Simpson enjoyed a $10,000 run to the checkers at Farley Speedway's 40th annual Yankee Dirt Track Classic Saturday night.
Simpson regained the lead with 28 circuits to go in the 100-lap main event, then held off Joel Callahan and Justin Kay following a late restart to win his IMCA Late Model tour career-first feature.
He also became the 100th different driver to win a feature over the course of the series' 477-event history.
"It was kind of a good night for us," said Simpson, who put a car he built and borrowed from Jason Rauen in victory lane. "This is a series that has been around for a long time. I always wanted to win one and finally did. It feels really good to get the win and it's an honor to win a Deery race."
The top-paying event on the tour schedule saw a season-best 55 entries. Callahan, a two-time Yankee winner, took home $5,000 for second and Kay's third place finish was good for $2,500.
Rounding out the top five were three-time and defending race winner Tyler Bruening and the 20th starting Chad Holladay. Series point leader Jesse Sobbing was sixth.
The main event saw five lead changes, with pole starter Callahan, Rauen and Simpson enjoying turns up front before "B" qualifier Ryan Dolan motored by to pick up the halfway leader bonus.
Simpson returned the favor on lap 73 and led to the finish.
Jeff Aikey did double duty and earned $3,000 and a spot on the 2018 Fast Shafts All-Star Invitational ballot for his win in the IMCA Modified feature.
Next on the Deery Series schedule is the Thursday, Sept. 7 show during the IMCA Speedway Motors Super Nationals at Boone Speedway. The winner earns $2,000 plus a bonus of as much as $1,500.
Pit gates open at 11 a.m. and racing starts at 2 p.m. Approximate start time for the Late Model feature is 8 p.m.
Feature results – 1. Chris Simpson, Oxford; 2. Joel Callahan, Dubuque; 3. Justin Kay, Wheatland; 4. Tyler Bruening, Decorah; 5. Chad Holladay, Muscatine; 6. Jesse Sobbing, Malvern; 7. Denny Eckrich, Tiffin; 8. Cayden Carter, Oskaloosa; 9. Dan Shelliam, Hazel Green, Wis.; 10. Ryan Dolan, Lisbon; 11. Mike Fryer, Freeport, Ill.; 12. Jake Neal, Omaha, Neb.; 13. Ben Seemann, Waterloo; 14. Chris Horn, Cedar Rapids; 15. Darrel DeFrance, Marshalltown; 16. Luke Goedert, Guttenberg; 17. Jon Merfeld, Dubuque; 18. Jeff Aikey, Cedar Falls; 19. Matt Ryan, Davenport; 20. Jeremiah Hurst, Dubuque; 21. Andy Eckrich, Oxford; 22. Andy Nezworski, Buffalo;23. Jason Rauen, Farley; 24. Curt Martin, Independence; 25. Justin Mitchell, Cedar Rapids; 26. Nick Marolf, Wilton; 27. Kyle Hinrichs, Swisher.