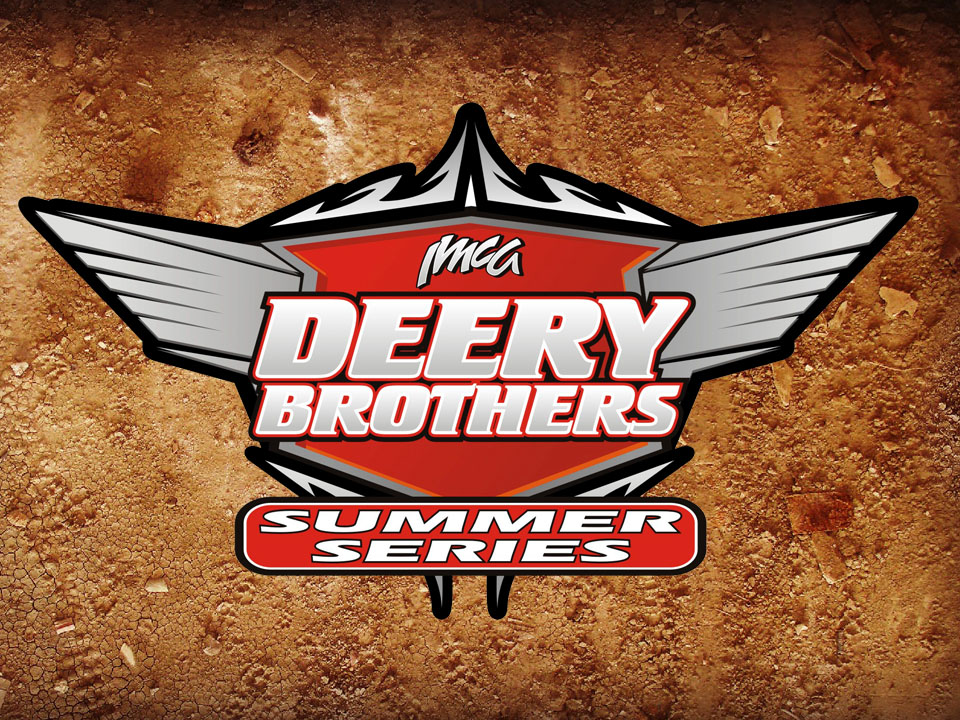 FARLEY, Iowa – The top paycheck of the Deery Brothers Summer Series is on the line this weekend, as touring IMCA Late Models headline the 40th annual Yankee Dirt Track Classic at Farley Speedway.
The Saturday, Sept. 2 100-lap main event pays $10,000 to win and a minimum of $600 to make the 24-car starting field.
Second place in the Deery feature pays $5,000, with $2,500 for third, $1,500 for fourth, $1,250 for fifth and $1,000 for sixth.
"The Yankee Dirt Track Classic has a storied history and we are excited to headline the 40th annual event as part of the Deery Brothers Summer Series," Tour Director Kevin Yoder noted. "There is a lot on the line in terms of both pay and points and I anticipate a great weekend of racing."
Also on the Saturday card at the Yankee are a $3,000 to win, Fast Shafts All-Star Invitational ballot qualifying feature for IMCA Modifieds. IMCA Sunoco Stock Cars and Karl Chevrolet Northern SportMods both run for $1,200 to win in their respective features.
Pit gates open at 5 p.m. and the grandstand opens at 5:30 p.m. on Thursday, Aug. 31. Hot laps for all classes follow the 6:15 p.m. drivers' meeting. Time trials, heats, consolation races and a $400 to win non-qualifiers' feature are on the program for Modifieds, along with Northern SportMod qualifying and open practice for the Late Models and Stock Cars.
Grandstand admission is $15 for adults, $12 for seniors 62 and over and $5 for students ages 13-17. Pit passes are $25.
Late Model time trials, heat races and a $550 to win non-qualifiers' feature are on the Friday, Sept. 1 card, as are qualifying races for the Stock Cars.
Gates open at 4 p.m. and the grandstand opens at 5 p.m. Racing follows the 6:30 p.m. drivers' meeting; there are no hot laps. Spectator admission is $20 for adults, $17 for seniors and $10 for students while pit passes are $30.
Last-chance qualifying is on Saturday for the Deery Series Late Models, Modifieds, Stock Cars and Northern SportMods. The winner of the non-qualifiers' race for Late Models earns $700 or a starting spot in the main event.
Start time for the Deery Series main event is 9 p.m.
Pit gates open at 3 p.m. and the grandstand opens at 4:30 p.m. Racing follows the 6 p.m. drivers' meeting and there will be hot laps for cars already qualified. Grandstand admission is $25 for adults, $22 for seniors and $20 for students. Pit passes are $35.
Kids 12 and under will be admitted free to the grandstand each night of the Yankee.
More information is posted on the www.farleyspeedwaypromotions.com website.
The Yankee is the 10th of a dozen events on the schedule for the 31st annual Deery Series. The series is at Boone Speedway on Sept. 7 during the IMCA Speedway Motors Super Nationals fueled by Casey's before concluding at West Liberty Raceway's Sept. 22 and 23 Ideal Ready Mix Liberty 100 Weekend.
Deery Brothers Summer Series top 20 point standings – 1. Jesse Sobbing, Malvern, 327; 2. Jake Neal, Omaha, Neb., 314; 3. Matt Ryan, Davenport, 303; 4. Chad Holladay, Muscatine, 297; 5. Darrel DeFrance, Marshalltown, 292; 6. Cayden Carter, Oskaloosa, 282; 7. Curt Martin, Independence, 269; 8. Jeremiah Hurst, Dubuque, 256; 9. Luke Goedert, Guttenberg, 251; 10. Justin Kay, Wheatland, 239; 11. Joel Callahan, Dubuque, 217; 12. Richie Gustin, Gilman, 213; 13. Jeff Tharp, Sherrill, 198; 14. Paul Conrad, Colo, 185; 15. Curt Schroeder, Newton, 171; 16. Jeff Aikey, Cedar Falls, 169; 17. Andy Eckrich, Oxford, 148; 18. Denny Eckrich, Tiffin, 141; 19. Nick Marolf, Wilton, 135; 20. John Emerson, Waterloo, 131.