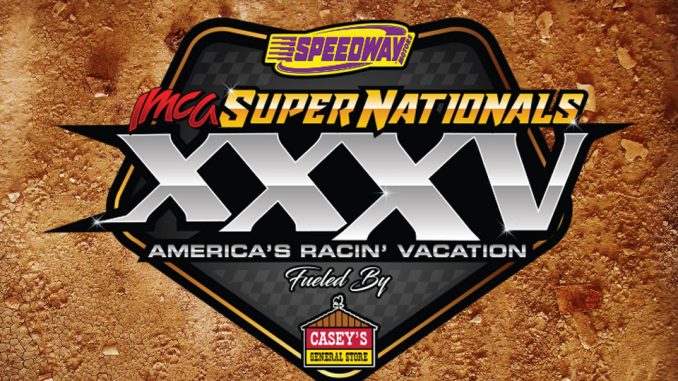 BOONE, Iowa – More than $6,000 in lap money and bonuses will be paid to drivers competing in the Sept. 4-9 IMCA Speedway Motors Super Nationals fueled by Casey's.
Both Modified qualifying feature winners each night Wednesday, Thursday and Friday, Sept. 6, 7 and 8 earn $100 bonuses from Derr Farms.
Malvern Bank pays $50 to each heat winner during Thursday's Deery Brothers Summer Series pro­gram.
Bilstein pays $25 to the leader of each of 30 laps of the Fast Shafts All-Star Modified Invitational Fri­day evening.
Four race of champions events are on the Saturday, Sept. 9 card at Boone Speedway and additional money is at stake in each.
One hundred dollars goes to the leader of each of the 12 laps in the Harris Auto Racing Race of Champi­ons for Modifieds.
From start to finish, the companies paying lap money to the leader are Golden Empire Towing, Intensi­tee, Cookie's Sauce & Seasoning, Walmart, Fareway, Diamond Oil, Joe Busch Ag Repair, Ames Ford Lin­coln, Saints Avenue Café, Baymont Inn & Suites, Dirt Modified Magazine and Derr Farms.
Leading the Sunoco Race Fuels Race of Champions for Stock Cars will pay $75 for each of 10 circuits, courtesy of Todd's Taxi, Intensitee, Cookie's Sauce & Seasoning, Walmart, Fareway, Diamond Oil, Ames Ford Lincoln, Joe Busch Ag Repair, Wheelock's Service and Saint's Avenue Cafe.
Renner Wraps and Big Daddy Race Cars pay $50 to the leaders on each of the 10 circuits in BSB Manufac­turing Northern SportMod Race of Champions and the Stephenville Starter Hobby Stock Race of Champions, respectively.
A $250 bonus will be awarded to the Northern SportMod main event champion if they are participating with EQ heads. The same bonus will apply to the winner of Saturday's Hobby Stock main event.
Karl Chevrolet bonuses of $250, $150 and $100 go to the top three Modified, Northern SportMod and Hobby Stock finishers with crate engines.
Golden Empire Towing gives $200 cash awards to drivers of the best appearing Modifieds and North­ern SportMods competing at Super Nationals. Speedway Motors gives $100 gift cards to all drivers entering the best appearing car con­test while Sweet Manufacturing awards an ignition box to the Modified winner.