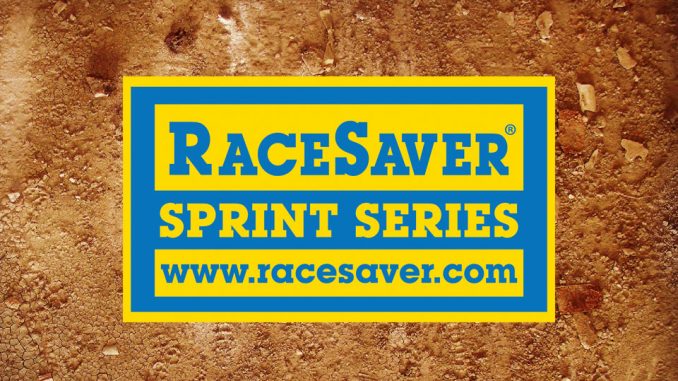 EAGLE, Neb. – The nearly 120 drivers pre-registered for the Aug. 31-Sept. 3 IMCA RaceSaver Sprint Nationals made the trip to Eagle Raceway from coast to coast and border to border.
Thirteen states are represented by early entries for the fifth annual IMCA RaceSaver Sprint Car event. Sunday's feature pays $2,500 to win and a minimum $1,250 to start, with a generous num­ber of contingencies to be awarded as well.
The starting field of 27 will be determined through qualifying on Sept. 1 and 2 and in last-chance qualifying on Sept. 3. Friday and Saturday qualify­ing features both pay $700 to win while Satur­day's Jake Ita Memo­rial pays $1,000 to win and a minimum of $100 to start.
Gene Ackland, Martell; Brandon Allen, St. Peter, Minn.; Bruce Allen, Mankato, Minn.; Justin Allen, Gaylord, Minn.; Brandon Anderson, Montgomery, Texas; Shayle Bade, Lincoln; Dusty Ballenger, Harrisburg, S.D.; Ethan Barrow, Bloomington, Ind.; Brett Becker, Odessa, Texas; Jason Becker, Seward; Tom Belsky, North Platte; Clint Benson, Papillion; Nate Berry, McCook; and Greg Black, Des Moines, Iowa.
Zach Blurton, Quinter, Kan.; Daren Bolac, Moyock, N.C.; Gregg Bolte, Fremont; Brandon Bosma, Round Lake, Minn.; Mike Boston, Lincoln; Johnny Brown, Orange, Texas; Nick Bryan, Lincoln; Jake Bubak, Arvada, Colo.; John Carney, Lubbock, Texas; Dwight Carter, Lincoln; Toby Chap­man, Panama; Dalyn Cody, Prior Lake, Minn.; Kyle Colwell, Knox, Pa.; Taylor Courtney, Fort Worth, Texas; and Luke Cranston, Holcomb, Kan.
Blake Dacus, Fletcher, Okla.; Jason Danley, Lincoln; Joey Danley, Lincoln; Michael Day, Green­ville, Texas; Jack Dover, Springfield; Keith Dragoo, Greenwood; Tyler Drueke, Eagle; Ken Duke Jr., Selinsgrove, Pa.; Chris Ennis, Bakersfield, Calif.; Claud Estes, Godley, Texas; Colby Estes, Mansfield, Texas; D.J. Estes, Mansfield, Texas; Matt Etzelmiller, Keller, Texas; and Tony Ever­hart, El Cajon, Calif.
Chad Fegley, Eagle; Monty Ferriera, Fresno, Calif.; Justin Fifield, Mesquite, Texas; Kyle Ganoe. Thompsontown, Pa.; Bill Garrow, Lincoln; Jimmy Grasso, Omaha; Trevor Grossenbacher, Lin­coln; Adam Gullion, Lincoln; Ryan Hall, Midlothian, Texas; Jaremi Hanson, Dillsburg, Pa.; Rick Hansen, Omaha; Jerald Harris, Harrisonburg, Va.; Bob Hildreth, Iowa Falls, Iowa; Brandon Hor­ton, Omaha; and Mike Houseman Jr., Des Moines, Iowa.
Jacob Hughes, Hartford, S.D.; C.J. Hulsey, El Paso, Texas; J.D. Johnson, Wichita, Kan.; Kaleb Johnson, Sioux Falls, S.D.; Mike Johnston, Des Moines, Iowa; Mike Keeton, Glenallen, Va.; Chris Kelly, Moore, Okla.; Ryan King, Bennet; Chad Koch, Lakeside, Texas; Cody Ledger, Omaha; Ron Love, Lincoln; Doug Lovegrove, Waverly; Charlie McDonald, Jefferson, Texas; and Austin McLean, Loveland, Colo.
Jesse Mack, Visalia, Calif.; Jason Martin, Lincoln; Scott Meisner, Fresno, Calif.; Justin Melton, Lewisville, Texas; Michelle Melton, Flower Mound, Texas; Jason Miller, Omaha; Mike Moore, Des Moines, Iowa; Josh Most, Red Oak, Iowa; Danny Nekolite, O'Neill; Neil Nickolite, Bellwood; Rod Ort, Lewisberry, Pa.; Blain Petersen, Essex, Iowa; Boyd Peterson, Ithaca; Ryan Price, Glenallen, Va.; and Shon Pointer, Grand Island.
Kevin Ramey, Fort Worth, Texas; Matt Richards, Lincoln; Terry Richards, Denton; Steven Richard­son, Liberal, Kan.; John Ricketts, Burleson, Texas; Frank Rodgers, Lucas, Iowa; Chris Roseland, Carter Lake, Iowa; Dan Satriano, Papillion; Jeremy Schultz, Stewart, Minn.; Blake Scott, Pauls Valley, Okla.; Trevor Serbus, Olivia, Minn.; Troy Severin, Ashland, Va.; Andy Shouse, Ok­lahoma City, Okla.; Colin Smith, Sheldon, Iowa; and Stu Snyder, Waverly.
Randy Sterling, Morrisdale, Pa.; Michael Stien, Ceylon, Minn.; Tyler Thompson, Des Moines, Iowa; Joel Thorpe, Urbandale, Iowa; George Tristao Jr., Tulare, Calif.; Robert Vetter, Wolfe City, Texas; Koby Walters, Liberal, Kan.; Charlie Ware, Hallieford, Va.; Mark Watkins, McConnellsburg, Pa.; John Webster, North Platte; Chase Weiler, Lincoln; Nate Weiler, LaVista; Jed Werner, Codell, Kan.; Ty Williams, Arcadia, Okla.; and Ben Woods, Newton, Iowa.
Sprint Nationals begins with an open house and practice on Thursday, Aug. 31. The event will be broadcast by IMCATV and is presented by Precise Racing Prod­ucts and NMC Cat Rental Store.