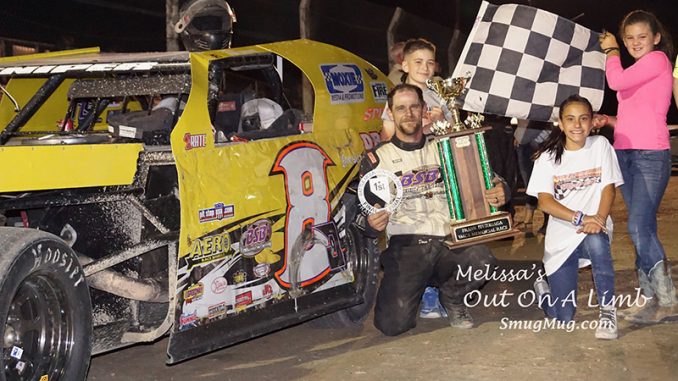 BATTLE MOUNTAIN, Nev. (Aug. 19) – Doug Davenport came back to Nevada looking for redemp­tion.
He got that, plus the $1,000 IMCA Modified feature win at Battle Mountain Raceway's Frankie Iturriaga Memorial.
"I had the fastest car before cutting a tire at a $1,000 to win race at Winnemucca in April," ex­plained Davenport, from Vernonia, Ore., and newly qualified for the 2018 Fast Shafts All-Star Invita­tional ballot. "I like traveling and racing at new and different places and got to thinking that I should go back down there and redeem myself."
Davenport ran third in the Friday show at Winnemucca behind Robert Miller and Cory Sample. He started inside row two at Battle Mountain on Saturday and led all 30 laps.
"I had never seen the track before but it felt really good when we got there," Davenport said. "Bat­tle Mountain is similar to Sunset Speedway Park, which is right down the road from me (in Banks, Ore.) so we just went one gear shallower. Otherwise everything else was the same as at my home track."
Sample, who had encouraged Davenport to make the 10-1/2 hour tow, ended in second and defend­ing race winner Randy Artz was third.
Reese Artz and Brad Schmidt completed the top five.
"It was a neat race to win," said Davenport, who will keep what had been a traveling trophy. "I was in the right place at the right time to win the race and meet the Iturriaga family."
"It was pretty neat to bring the trophy home with me," he added. "Most of my racing stuff goes in the shop but the special stuff I put in my office. I think that's where this will go."
Feature results – 1. Doug Davenport; 2. Cory Sample; 3. Randy Artz; 4. Reese Artz; 5. Brad Schmidt; 6. Jonathan Delavega; 7. Shawn LaRocque; 8. Heinz Wilke; 9. Dwight East; 10. Steven Anderson; 11. Chris Judy; 12. Anthony Messmann; 13. Rick Zeiter; 14. K.C. Kubichek.