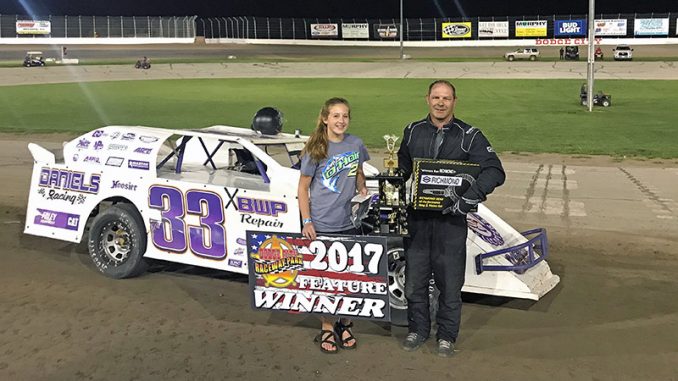 By Lonnie Wheatley
DODGE CITY, Kan. (Aug. 19) – After finishing just one position short last year, Dustin Daniels reached the top step of the podium in Saturday's IMCA SportMod Mayhem special at Dodge City Raceway Park.
The checkers in the fourth annual event came along with a $1,000 top prize.
Daniels turned the tables on Kaleb Roach after the latter beat him to the stripe in last year's edi­tion of Mayhem.
Roach had a front row starting position in his bid for a second consecutive event win but Daniels denied him by rallying from eighth starting to take the victory.
Roach settled for runner-up honors with Ronnie Hults racing from ninth to third. Jeff Kaup was fourth with Blaine Walt rallying from 18th to round out the top five.
Brendon Gemmill landed his first local IMCA Modified feature win of the season while Reagan Sellard scored his third Dodge City IMCA Sunoco Hobby Stock victory of 2017.
Daniels and Sellard both pocketed $200 certificates from Richmond Gear to go along with their winnings.
Feature results – 1. Dustin Daniels; 2. Kaleb Roach; 3. Ronnie Hults; 4. Jeff Kaup; 5. Blaine Walt; 6. Brian May; 7. Kyle Wiens; 8. Bart Baker; 9. Joey Maupin; 10. Alex Wiens; 11. Bill Smith; 12. Tanner Brunson; 13. Dan Rogers; 14. Adam Stenzel; 15. Dakota Sproul; 16. Danny Concel­man; 17. Jacob Fehler; 18. Brian Davidson; 19. Ryan Moser; 20. Tom Nelson Jr.