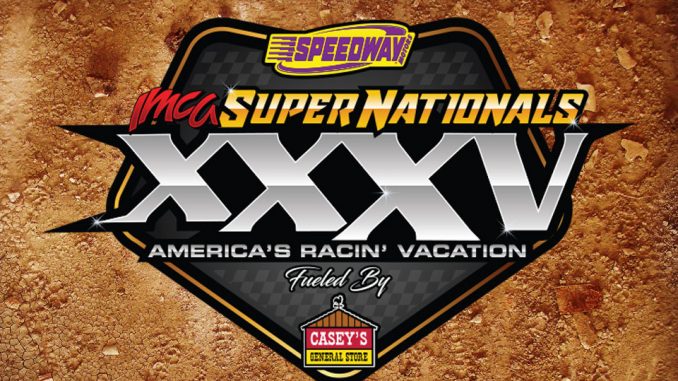 BOONE, Iowa – The three honorary starters for last-chance Modified features have varying backgrounds in the military but share a passion for dirt racing in general and IMCA racing in particular.
John Wailes of Fort Dodge, Trevor Baker of Omaha, Neb., and Mark Berglund of Clarksville will all wave the green flag on Saturday, Sept. 9 during the IMCA Speedway Motors Super Nationals fueled by Casey's.
Wailes, nominated by Curtis Lee of Hope For The Warriors, has served 15 years in the armed forces and currently serves with the Army Reserves. He deployed to Iraq in support of Operaton New Dawn in 2011.
Baker, an IMCA Modified driver, has served for 12 years in the Nebraska Army National Guard. Baker and his mother Carrie were deployed together to Afghanistan during the Enduring Freedom campaign. Nominated by his mother, Baker's father and two brothers have also served or are currently serving our country.
Berglund served on five different ships and 20 different countries during his 20-year career in the U.S. Navy. Nominated by IMCA Modified driver Troy Cordes, he began attending Super Nationals in 1999 and hasn't missed the event since.
All three honorary starters will assist with the Saturday afternoon, Sept. 9 check presentation to Hope For the Warriors.
Ankeny-based Casey's General Stores, the presentation sponsor for Super Nationals, donates $10 for each heat race won by a Modified, Late Model, Stock Car, Hobby Stock, Northern SportMod, Southern SportMod or Sport Compact driver displaying a Casey's decal between Sept. 4 and Sept. 8.
IMCA will match that amount.
Depending on the number of heat races held, Casey's and IMCA officials will present a check to Hope For The Warri­ors President and CEO Robin Kelleher in front of the flagstand during a break in the Saturday race program.
Hope For The Warriors is a national nonprofit organization founded in 2006 that assists post-9/11 service members, their families, and families of the fallen who have sustained physical and psychologi­cal wounds in the line of duty.
The official convenience store of IMCA, Casey's has supported Hope For The Warriors with previ­ous fundraisers, including donations at Super Nationals every year since 2013.
"The honorary starter program is a way to highlight the contributions and sacrifices some of our loyal race fans and drivers have provided our country," said IMCA Marketing Director Kevin Yoder. "We could not be prouder to partner with Casey's General Store and Hope For The Warriors to recognize these individuals."