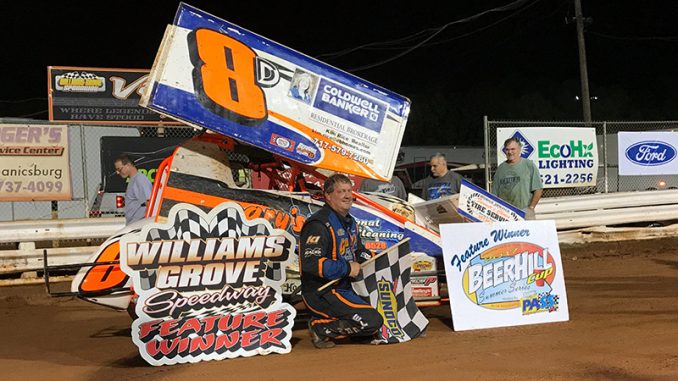 By Erika Palmai Wagner
MECHANICSBURG, Pa. (Aug. 18) – Scott Ellerman took home quite a bit of hardware Friday after winning the co-sanctioned Mid-Atlantic Sprint Series/Pennsylvania Sprint Series feature event at Williams Grove Speedway.
Along with the IMCA RaceSaver Sprint Car feature win, Ellerman collected the Beer Hill Cup Summer Series championship.
Austin Bishop, Bobby Butler, Jaremi Hanson and Zach Newlin completed the top five as an 45 cars were entered at came together at the historic Central Pennsylvania ½-mile oval.
After Ellerman took over command of the top spot, the fight for the lead continued throughout the entire duration of the race with Butler staying within a car length.
In the final circuits, Bishop began to make ground on the top two cars, looking more and more like another possible contender for the win as the laps counted down, and chased Ellerman and Bishop across the stripe.
Feature results – 1. Scott Ellerman; 2. Austin Bishop; 3. Bobby Butler; 4. Jaremi Hanson; 5. Zachary Newlin; 6. Dave Brown; 7. Tyler Reeser; 8. Eddie Wagner; 9. Colby Dice; 10. Darren Miller; 11. Cale Reigle; 12. Tommy Carberry; 13. Rick Stief; 14. Jeff Geiges; 15. Jon Haegele; 16. Scott Frack; 17. Jay Krout; 18. Tom Carberry; 19. Kyle Ganoe; 20. Ian Cumens; 21. Stephanie Dodson; 22. Dave Grube; 23. Tim Tanner Jr.; 24. Ken Duke Jr.; 25. George Riden; 26. Fred Arnold.